You guys have followed along over the last several months as I've managed and overseen home improvement projects. Most of those having been completed by an outside company simply because I can't do them myself (new roof, pool renovations, install of french drains). No surprise, I've also spent quite a bit of money outsourcing those various jobs. So whenever I can complete an improvement project myself, I'm all over it.
Moen recently sent me a beautiful new bathroom faucet and I couldn't wait to get outside my comfort zone to install it myself.
Yes! I said "myself".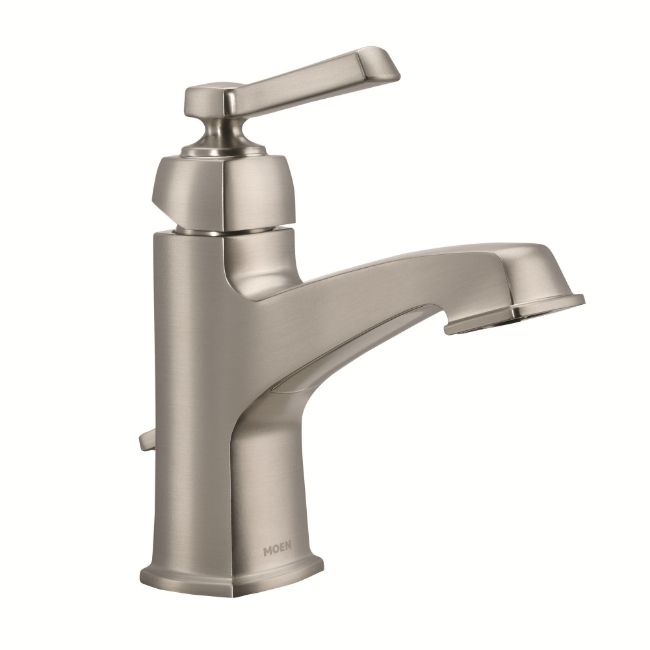 Isn't it beautiful?! Since this faucet has a spot and fingerprint resistant finish, I knew exactly which bathroom would benefit from it. The bathroom in the room of my 9 year old…
No, the old faucet wasn't *that* bad. But it felt outdated and my 9 year old was putting it to the test for sure. After spending a little time doing some research into how exactly I would replace the faucet, I realized how simple the job was. I couldn't believe it and was downright excited to do the job myself. Also, if I ran into any install issues Moen has a customer care line to walk you through the job. Nice to know they were there for me, but I can proudly report I didn't end up calling – woot! Didn't even call my dad!
Let's get started!
Here are the tools needed for the job: Pliers, wrench or basin wrench, gloves to protect your hands, and a bucket to catch water. You'll also need some cleaning supplies for cleaning under the old fixture before adding the new one.
First step is turning off the water source. Behind my sink I was able to turn off the water easily, but if necessary you may need to shut off the main water source. All I did was turn off both supply lines behind my sink. Then I turned on both the hot and cold water on the old faucet to make sure the water was off and anything that needed to drain came out into the sink…
Next, time to disconnect the old water lines. This will require your wrench because they are on nice and tight. If they've been in place for a long time, it's going to take some elbow grease. Let's just say I have plenty of pent up frustration and took it all out on the demo part of this job – haha! After working at it for a few minutes, they're off!…
With the water hoses detached from one end, you'll now remove them from bottom of the old faucet. This tends to be a tight space so try to have some patience…
Now that the water hoses have been removed, using your wrench again you'll unscrew the old faucet from the sink itself. Since my old faucet was using all 3 openings in the sink, I had to unscrew both the cold and hot water sides as well as the pieces for the pull up drain in the middle…
Removing the middle plastic pipe that connects the sink to the main drain pipe…And that houses the pull up portion of the drain…That's going to take some muscle to disconnect. Especially if, like in my case, the old faucet has been there a while…
With everything removed, your old faucet will easily come off. Be prepared to see what has been living underneath – yuck!…
You'll also remove the main drain pieces from the bottom of the sink. As you can see in the photo below, the drain piece is simply twisted into the pipe under the sink. Once you've untwisted the drain from the pipe below the sink. Everything comes apart to reveal this…
Gross!
After a good clean-up, and the old faucet completely removed, it's time to install a new, clean, beautiful faucet!
And don't be scared – It's just as easy as removing the old one!
With this Moen Boardwalk 1-Handle faucet, you can choose to have the plate beneath it or not. It's a personal preference and the included instructions show you how to do both. I chose to use the plate so I put them in place by placing the plate on the sink and then feeding the faucet piping through the middle sink hole…
Moen has all of the pieces needed for a complete, easy install. Including a great little wrench that's small enough to fit under the sink and tighten the faucet into place. I added the attachment fitting, bolt and tightened the new faucet in place…
With the main faucet tightly secured, I next installed the drain. Again, everything just screws together…
With the new drain and pipe under the drain / sink screwed together tightly, time to add the stopper feature of the drain and the connectors for it under the sink. This is the function that allows the sink to close to fill with water, and then drain when you push down on the little plunger behind or on top of your faucet. There are 2 pieces to create this feature and all you need to do is connect them according to your faucet's directions. It's simple…
With the faucet completely installed, it's time to add the water lines back into the supply source…
Make sure they are tight.
Now comes the moment of truth –  turning on the faucet…
It works!
And the stopper function both keeps water in and drains it…
With the water on and running I double checked all of the connections to make sure everything was secure and to verify no leaks. All good!
And now there is a beautiful new faucet in my son's bathroom!…
So happy with the results! And completing this easy home improvement project took only 45 minutes to an hour. I didn't have to call out a handyman or a plumber – I didn't this job 100% on my own.
I love this Moen faucet and think you would love one in your home too. The faucet isn't just easy to install with the included instructions, it has many great features and it's beautiful!
This particular faucet, the Boardwalk 1-Handle Spot-Resistent faucet, makes keeping a cleaner bathroom easier. With 3 kids in the house, I could definitely use more of that in my life! 🙂 I'm sure you can too! It's brushed nickel with Spot Resist finish fends off fingerprints and everyday water spots so you can go on with your day. The Moen Boardwalk meets WaterSense criteria, using up to 32% less water without sacrificing performance.
And it's pretty!…
If you like this model, the Moen Boardwalk can be found at your local Lowe's…
Moen Boardwalk 1-Handle bathroom faucet in Spot Resist
If you enjoy following your favorite companies via social media, you can find Moen right here on Facebook…
I hope I've inspired you to complete this easy DIY project in your own home. I'm patting myself on the back today for having installed this baby all by myself! 🙂
Have a great day!
This is a Sponsored post written by me on behalf of Moen, Incorporated. All opinions are 100% mine.