We already know gathering holiday wrapping supplies into one spot just makes sense. But what I'm finding has become more of a challenge is keeping my kids away from it. They don't want to play with it. They are getting older and obviously more curious as to what is being wrapped. And who it's from. Yikes! So mom is in super stealth mode to wrap quickly and dash away the supplies. This year, instead of my usual gift wrap station set up on a table in the office or spare room, I've made mine portable. It's been working perfectly and couldn't wait to share it in case you're in need of a simple wrapping solution this season.
Personally, I'm wrapping everything in gift wrap this year. Gift bags are great and have been useful during the years I didn't have time to spend wrapping. This year I'm treating myself, and our gift recipients, to pretty, hand-wrapped gifts. I'm getting a bit ahead of myself, but wait until you see the ribbon I found for wrapping gifts. I'll be sharing it soon along with my clutter-free gifts for our teachers and neighbors!
Back to gift wrap! The supplies needed to create a portable wrapping station are simple. I started with a long underbed storage box from The Container Store. No, it's not one of those super cumbersome long boxes. This box is the perfect size for toting around and hiding away.
(source)
It's 35″ long, 6″ high and only $20. I had this one on hand as this is the box I store wrapping paper in all year long. Next, I gathered up my wrapping paper rolls. I purchased all of mine last year on sale…
I added several types of ribbon, a few rolls of tape and my favorite sharp scissors…
One of my favorite little containers can be found for only $1 at Target. I've shared these quite a bit on the blog…because they work really well…but Target now sells these fully finished in chalkboard paint…
They come in a variety of colors too. Couldn't pass them up for client projects and projects of my own!…
With the help of my chalk pen, I now have a simple container for pens and gift tags…
These ChalkStock tags are my absolute favorite label for client projects, but they make incredible gift tags or a simple yet pretty tag for hostess gifts…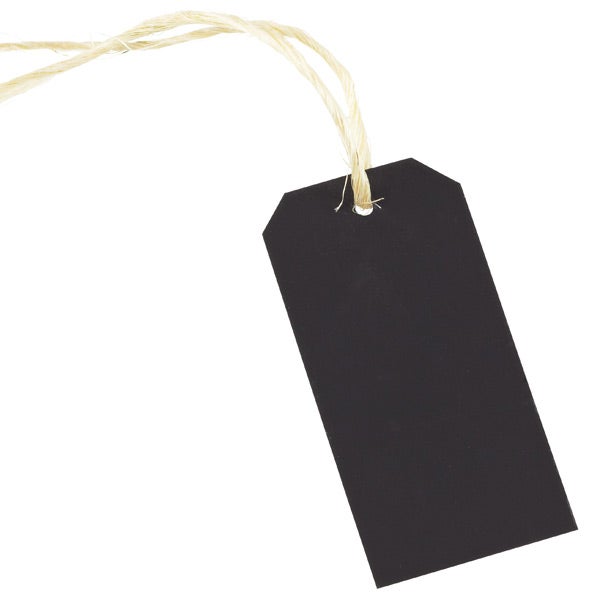 With the supplies gathered this way, I'm able to wrap gifts on the kitchen table or upstairs in my office.
And when done, all I need to do is tuck it away under my bed, in a closet or the garage.
If you need a simple gift wrap station idea, I hope this helps! Be sure to check back soon for my clutter-free gift ideas and the most amazing gift-wrap ribbon I tracked down this year! So excited about it!
Have a good day everyone!
affiliate links added for your convenience