Happy Monday! Hope you had a great weekend and have a fun week ahead to look forward to. Personally, this week should be an interesting one for me – I'm not working with clients. #shudder Don't get me wrong or think for a second I'm still not totally booked out this week, because I am. With the exception of a closet design / measure out for a new client, I'm working from home all week on my 3M Command Adhesive projects. My first project was completed over the weekend and wish I could share a sneak peek with you guys. (I'm waiting on approval.) It turned out SOOOO adorable! I carved out this week to focus on the completion of projects 2 and 3. There's quite a bit of photography involved, which is a welcome change. It's allowed me the opportunity to "get back to my roots" so to speak. I've missed creating projects, photographing, editing and writing…this change makes me happy and is bringing me back to a creative, happy space. Funny enough, couldn't come at a better time. I was feeling the need for a shift. Next week – it's back to work with my people.
I'll share more about my 3M contract later this week, but this blog post has been sitting in my drafts file long enough. Time to share it – among many other things.
If you've been reading my blog a while, you know I'm not a "limelight" person. I'm quite happy to work intimately with clients or alone in a closet, kitchen, garage, etc. But do understand the interest in wanting to see more of what I do, how I do it and also to hear more from me. Yes, some people have requested just to see more of me doing all of these things. Yeeesh, why??? haha! I receive e-mails from very kind people asking for videos or more periscopes. I'm on it – trust me. It's just been hard finding the time to get my act together in those areas of my business and locating someone qualified / within my budget to edit videos for the youtube channel (know anyone?).
Truthfully though, I'm not very comfortable in front of a camera…it's not me. And that's what keeps me from doing it…or from sharing any positive press I've been blessed with. Lately, I've been listening to friends that know what they're talking about, however, and recognize this site is also a place to share the small successes in my business…and the site should act as a portfolio not only for client work, but for everything. Moving forward, I'm going to share these successes and also share links to articles I've written for online publications or links to sites where I've been quoted or interviewed as an expert. At a minimum, it will allow me to keep it all in one space too! Someone recently asked me for a list of everything and I didn't have it. I had to dig through papers and old blog posts to come up with something to give them.
That said…
Last Fall I was contacted by Redbook Magazine to gauge my interest in collaborating on an article about multi-tasking organization pieces. Over the course of a month, it went from one article idea to something a bit different – but was very fun to be a part of the entire process. I was blown away they asked me to begin with and accepted their offer. During the process I worked with their sweet deputy editor on the piece. She's adorable and made the process fun and exciting. There was quite a bit of back and forth. My initial job was to suggest a list of multi-tasking pieces that could be used in various spaces around a home. I'll go ahead and share the inside of the magazine so you get a feel for what I'm talking about…
The pieces shown here are all the same, but used in 3 areas of a home – the entryway, living room and bathroom.
Once my pieces were approved, I answered a long list of questions about the products, their function, how's, why's and much much more. This particular piece is something I'll likely purchase myself at some point because it truly is a multi-tasker!…
( source )
Once my long list of questions was answered, a fact checker communicated with me, then it was a matter of waiting for the magazine to publish. I couldn't wait to see the end result of our hard work…my family and friends couldn't wait either. When the November issue finally arrived on newsstands at my local Barnes & Noble, I was on it…
Not lying, it was thrilling to see my name in a real paper magazine…
I still pinch myself when I pass by it in my home office. It was a great and memorable experience! But moreso, it's an article I'm proud of because it's real and something we can all relate to – the need for pieces to serve us in more than one way.
Every family that hires me comes with a budget. And I don't take that lightly. Heck, I'm on a budget too! Whenever I find a piece that's useful in more than one way, it moves to my list of strong considerations or suggestions. I shop a lot – A LOT – for clients. I've also purchased a lot and seen even more that either doesn't or does work. That's the nature of my job – to problem solve and remedy. There are pieces on the market that only serve one purpose. I'm always thinking broader and bigger when purchasing something for / with a client. I think big picture and keep in mind what their future may look like. I pay attention to statements they make about moving one day, etc. There's many factors weighed when the need arrises to purchase something.
The Ikea Expedit is a good option because not only can it lay flat as seen in the entryway image…
It can be stood up and shifted to the side to add vertical space while still being able to reach everything on its shelves…
And I loved this product tip from the deputy editor – have you heard of Pretty Pegs?…
It's an after-market company that sells furniture legs for Ikea and other brands. Genius!! You can see above how we added the Estelle 120 legs to the bottom of the Ikea piece for the living room…
What a dramatic improvement from just sitting on the ground!
The barrel / seat you see is actually a galvanized storage barrel from Anthro…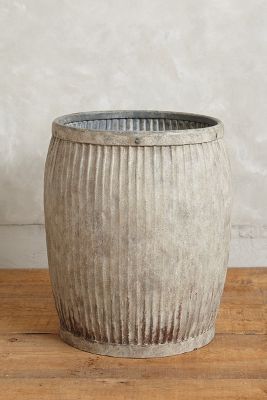 Everything we shared in this article can be used in a variety of spaces, for various purposes, is useful and cost-effective / budget-friendly! I believe these items can be used time and again for a long while. I stand behind the article and wouldn't have agreed to collaborate had Redbook simply used my name to click the "professional organizer" check box. It was a total pleasure working with the editor and the magazine as a whole has a message of women empowerment I can stand behind and support.
I was blown away a second time when they asked for a quote from me for their December issue too!…
Really proud and now that I've managed to turn this post into a means of sharing multi-purpose organization pieces (and not completely about me!), suddenly I feel excited about having shared more about it here on the blog!
Thanks for taking a moment to read! I appreciate the opportunity to not only share my tips and ideas here on the blog, but also when little opportunities like this show up…simply from absolutely loving my job / business! I'm forever grateful!
Have a great day guys!