Every September I say I'm going to finish holiday shopping early so I can truly enjoy the entire month of December. Instead of running around like crazy, the dream would be baking, cooking, entertaining, fun activities and spending time with lots of friends and family. Of course, I'd love to blog more during the holidays. If I did go out shopping it would be to browse, walk through stores with friends and find little host gifts or stocking stuffers. This year I'm determined to hit that goal so I'm taking advantage of the early gifting sale going on now through September 21st.
Just 3 days to shop!
Only a few brands are participating in this sale. But these are well-known and there's enough variety that I'm sure you'll find a good amount of items for people on your list.
THE EARLY GIFTING SALE BRANDS
Tarte – 25% off + free shipping
Abercrombie & Fitch- 25% off site-wide
Yves Saint Laurent – 25% off site-wide
Pink Lily – 25% off + free shipping over $100
Also includes Soma, Madewell, it Cosmetics and a few more!
WHAT I OWN AND LOVE
I mentioned in a previous post that I have this 1/4 zip pullover sweater and I love it! I wear it all the time – to work on projects when it's cold in the morning and then can take it off when it warms up. I wear it with my pj shorts in the morning while making coffee and lunches. I wear it to lounge around. It's a really great sweater!…
I don't see white available anymore, but they have other colors and it's on sale for 25% off…
( sweater )
I have been using this Tarte bronzer since I had my make-up done for the Shorty Awards…
It's been my go-to bronzer ever since and whenever I try something else, it doesn't work.
( bronzer )
WHAT I'D LIKE TO TRY
A few weeks ago I saw this YSL concealer being tested by a make-up influencer I follow on TikTok. The results truly looked amazing.
Confession: My under eye area has become such a problem spot for me. The lack of real sleep, stress…age?!…it's changing and it bugs me. I've been trying daily morning eye patches, masks and creams…but they are only temporary. I'm going to try this concealer and will report back…
( concealer )
By the way, when I saw this influencer using it I immediately went to a few beauty websites to purchase…it was sold out everywhere. She started with the brightening pen and then added the concealer….BOTH were sold out. I'm hoping to snag both during the sale because YSL isn't cheap! And if it works well, I'll buy some to gift.
I have two weddings to attend in the next two weeks – BOTH are my nieces! One niece is getting married in our backyard next Sunday evening (wow!) and the other will be a noon wedding down in Orange County. I've been on the hunt for a couple cute wedding dresses. I like this one for the OC wedding…
( dress )
It's something I can wear again during the holidays.
Will continue hunting for the evening wedding. Her colors are terra cotta, navy blue and gold. Maybe something navy?
But I did find this cute dress for the holidays…
( dress )
It's a sweater dress. I found a similar one I loved during the Nordstrom sale but it quickly sold out.
WHAT I'D LIKE TO GIFT
This is the gift everyone wants!…
( sherpa )
Comes in four colors and I'm definitely buying several as gifts…
My sister and I usually exchange a few things including a piece of clothing. I am loving this cute wrap sweater…
( sweater )
When it comes to my sister, she loves anything in my closet. And her husband has always asked her to go shopping with me. Maybe I go shopping with her this year as a part of her gift?
Anyway, I love the sweater and think it would look very cute with jeans! And would look great on anyone.
This leggings v-neck shirt is very cute too!…
( shirt )
Seeing it on the model gives you a better visual…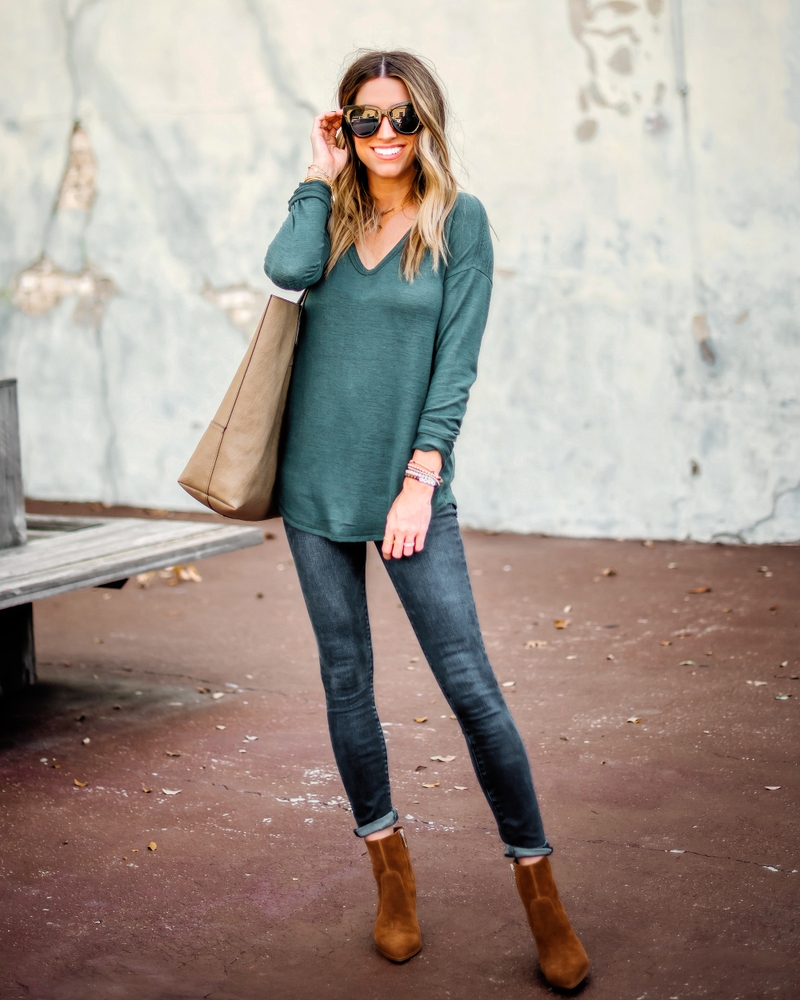 You can wear it with jeans or leggings…long-time readers know I love extra long sleeves and shirts that cover the backend. 🙂
Comes in a few colors!
The sales will continue to trickle in…and my plan is to continue browsing them. The last thing I want to deal with is expensive shipping costs. I noticed last year as I waiting to the very last moment those were a huge part of my holiday budget.
Hope you're having a great weekend guys!
xo,
Sam
*Some affiliate links were added for your convenience. You pay nothing more by clicking any links anywhere on this website. Thank you for supporting me and this blog so I can continue to share great content!