We've been getting so much rain over the last several weeks, which California desperately needs…so you won't hear me complaining. But the rain has held up my progress with the front yard landscaping.
Basically, after I shared this post a few weeks ago, the only update I have for you guys is that the sprinkler heads are on, the ground is level and we're prepped for sod. The paths have been further defined as well and I'll be buying the walkway stones soon. But until it stops raining, I can't move forward.
Since I'm at a standstill in the front, I've been staying positive and enjoying / reminding myself what I *have* accomplished in the backyard….
and the swing set area…
While waiting to move forward in the front yard, I've had time to think about what I may want to plant in the many beds around the property. Now that I live in California again, new plants and trees are on my radar. When I lived in Arkansas, the seasons kept me from planting what I really wanted. However, there were trees and plants I learned about while living in the south that will definitely work here in California. Like my beautiful crape myrtle trees.
Yup, I fell in love with those trees and am not ashamed to admit it. Don't you feel a connection to your plants and trees, too?
When I plant something and then have to move, it always makes me a little sad. For example, when we sold our Orange County home before moving to Little Rock, I had the most amazing lavendar and hydrangea bushes. They were planted in the ground so I couldn't take them with me. But man, I wish I could have. When I grow something I definitely get attached. So in this house, my inpsiration for growing and planting will have a lot of history embedded in it. I'm going to plant trees I loved in Arkansas (if they will survive here!) and plants I used to have down in OC. I can't wait!
Today, I thought I would share some tree, flower and plant inspiration with you guys.
This house already has one crape myrtle in front, but I'd love to add more of them. They bloom beautifully in the spring, and change color a little in the fall. They are easy to take care of and always grow back healthy and full after a good winter cut back…
I'm envisioning a lot of hydrangea bushes. This is one of my favorite flowers…
My favorite colors are white, light green or blue…but I'd be happy to take anything because I just love this flower so much!…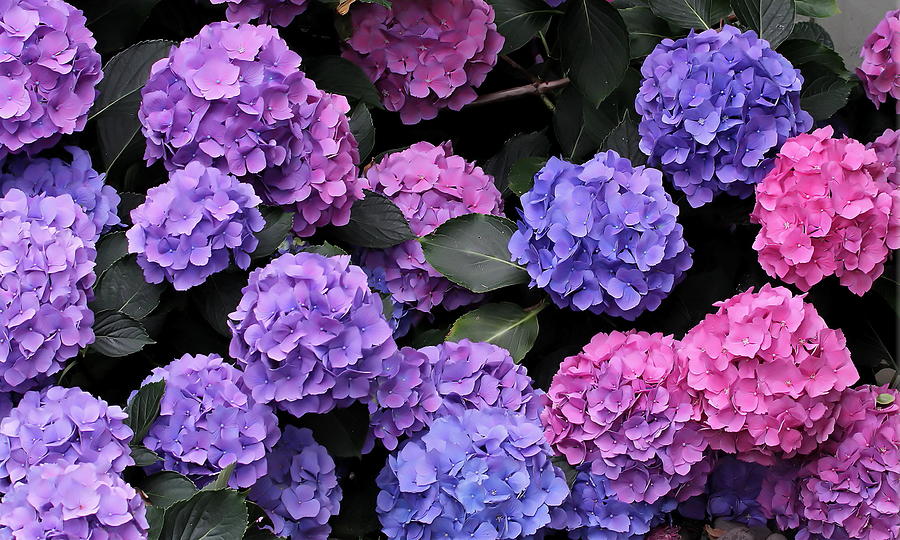 Maybe light pink too? So gorgeous!…
I love azalea bushes too! I had a ton of these bushes in Little Rock and they were so so gorgeous every spring…
I love tulip trees…
and Maple trees…
I already have so many trees on the property that are pretty much always green, like the huge redwood trees, olive trees, and plum trees. I'd love to add more color. And a lot of it.
I'm also thinking about planting low boxwood hedges along the front walking path and maybe around other areas. This will add a little height and give some dimension to the place. Right now everything is so flat…
I love star jasmine and used to have this growing over my garage door in Orange County. It's so fragrant and grows nicely…
Morning glory is beautiful too! I used to have a huge bush planted outside my kitchen window in OC. It was amazing to look at through the window while doing dishes or cooking. It grows vertically really well and it has a beautiful green leaf too…
Of course, I need lavendar bushes…
And rosemary bushes…
I also can't wait to get started on a real garden with the kids. They will love planting fresh produce and herbs here at home.
Finally, I've been anxious to add more color to the driveway. When I bought the house the tunnel looked like this…
But I had to trim back quite a bit so that allllllll of the contractors and moving trucks could fit through it. Now that spring is here, I've been paying attention to how the trees are growing back. And with the concrete poured in the driveway, I'm looking forward to adding not only colorful plants and flowers, but lights as well!…
Whenever I grow plants or flowers I always use Miracle-Gro because they produce the best outcome. Trust me, I've tried it all and Miracle-Gro is the best. Hands down.
I use Miracle-Gro to help keep trees healthy and to help my plants grow fuller and healthier. My plants, trees and flowers always come back just as beautiful next season too.
I can't wait to move beyond just sod here at the new house. We need plants and trees and flowers and COLOR. If you have any fun ideas to share with me, feel free to share in the comment section. You can also share comments and personal stories at Gro Something Greater.
Hopefully the next time I update about the front yard, I will have new sod to talk about and show off.
Have a great day!!
This is a Sponsored post written by me on behalf of Miracle-Gro. All opinions are 100% mine.