August and September is the time of year we tackle those home office spaces. With school back in session and the holidays fast approaching, back-to-school time generally goes hand-in-hand with home office organization. That trend is more than evident in my personal life as I recently shared paper organization ideas / updates happening in my own home office…and my client projects have included homework stations and home office updates as well.
If you're blessed with a home office, most likely you're using it for more than just "work". Office spaces or nooks tend to be the place where children do homework, bills are paid, gifts wrapped, cards written and much more. But is that space working for you? Is your current set up filling the need? Or do you not have an office space at all and have been dreaming of carving out a small corner to create a home office? Dream no more my organizing friends, because I'm more than grateful to share an incredible home office makeover with one very special Simply Organized reader!
And it's all thanks to Shoplet!…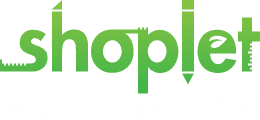 Shoplet is the number 1 e-tailer of business and office supplies. They're the largest e-tailer of green and eco-friendly items too. Their inventory includes more than 1 million items, meaning I can spend days on their site…and leading up to this giveaway, I did just that! The inventory is phenomenal! What could I possibly love more than online window shopping for office supplies and office organization? With every order placed on their site, Shoplet plants a tree in the shopper's honor in an effort to make the world a little bit greener.
Not only do they carry an amazing supply of office products and help make the world greener, but they are incredibly fun to work with AND generous! …
Shoplet is giving away a complete home office makeover! Yes, they are! You read that correctly. And it's for one of you – my sweet readers! I think I may be more excited than anyone!
The winner will have their choice of 1 out of 3 completely different collections. Each collection features varying design elements and functionality and contain pieces (chair or desk accessories or both) that are eco-friendly and green. Each prize has a retail value between $600-$700.
Let's talk about the 3 collections the lucky winner will choose from!
The Retro Restoration Collection is perfect for vintage enthusiasts. The set includes the Flash Furniture Black Computer Desk, Boss Black Micro Fiber Chair, Ledu Adjustable Desk Lamp and an ILIVE ISB313CW Bluetooth® Desktop Speaker.
The Cute Cubby Collection is perfect for a small office space. It includes a Monarch Furniture White Left or Right Corner Desk, Boss Mesh Back Task Chair, Ledu Chalice Table Lamp with Black String Shade, and a 3M Post-it Pop-up Notes Glossy Desk Organizer.
The Love Leather Collection is perfect for the sleek and sophisticated. This set includes a Monarch Furniture Cappuccino Computer Desk with a Storage Drawer, HON Volt Mesh Leather Task Chair, All The Rages Inc Elegant Designs Modern Black Leather Table Lamp, and an Artistic Architect Line Supply Caddy
I mean…I don't know about you, but I love each of these collections. The winner will definitely find something to fit their personal taste / style. Each collection offers great solutions for getting organized, spreading out a bit to get some work done or bills paid, or just to finally have that one little space in the house that is all yours. A place to set your incoming mail. A place to set your laptop to catch up on e-mails or print those digital photos that have been sitting on your computer for years. And let's not forget each desk comes with a comfortable chair, a great light for any kind of work you're doing and a fun little extra. My personal favorite is the Post-It Pop Up Note organizer. Ha…I wonder why??…
Now that you know about the details, I'm sure you're ready to enter! And of course I keep giveaway entry very simple over here. To enter, simply follow the directions inside the rafflecopter gadget below. Enter as many ways as you wish to up your chances of winning. Feel free to share this giveaway with your friends and family too! There's details about sharing in the entry gadget below.
This giveaway is for one winner and entry is open for 2 weeks, ending October 8. When the giveaway ends and a winner is chosen, Shoplet will be in touch about shipping your office collection!
Easy!
I want to send out a genuine thank you for my new friends at Shoplet for reaching out to partner up for this amazing opportunity. You guys, a lot of companies reach and please trust me when I say I'm very picky about who I choose to work with. These giveaways are all about sharing great companies with mission statements in line with my own…and a small way of giving back to you for being a dedicated reader of the blog. Good luck everyone!
a Rafflecopter giveaway