Would you believe me if I said more changes are coming soon in my home office? Over the last 2+ years living in this house, I've made what I currently own work to the best of its ability. And that's included lots of tweaking, adding, removing and re-organizing. But with my current office/business needs and my uninspired feeling working in a space that isn't light and bright, a significant change needs to be made. I'm talking all new office furniture (after owning this set for nearly 10 years), built-in storage and open shelving, pretty colors and a work space that feeds my creativity / project planning…while giving my new assistant space when she's here working with me. Yes, I said my new assistant. #wow I'll share more soon about my addition and what she's doing for / with me. Chances are, another is on the horizon. But I can promise you, when you see a blog post or something on social media – you're hearing from me. NOT a ghost writer.
Anyway, with design plans underway, I've been going through stuff in my office. And greeting cards were something first up on my hit list. I've organized them before, but the plastic drawer set-up they were living in is now gone. So I needed a new solution. While client shopping at The Container Store I found this…
Just a simple clear container with dividers included…
One is plenty of space for a decent collection of cards, but I grabbed two since I love to send cards and have a large collection…
I've been using several new labeling options with my clients, but this is my current favorite – so I opted for it in my own home office…
Feels vintage and fun. There's no reason not to double up your space by combining like categories too…
For the time being these pretties are living on my favorite office shelving…which will eventually find a new space in the house…
This wall will soon have cabinets and open shelving so the boxes will fit perfectly somewhere.
Last year I was so overwhelmed that sending cards fell off my to-do list. I opted to go green most of the time by sending online cards. This year I'm making an effort to send a card to family and friends. There's something special about getting something in the mail for occasions. These boxes make it easy to quickly find a card and if I find some on sale (as I did the other day when a local shop had a close-out sale), it's easy enough to tuck them away for future use.
Since we're talking cards, I wanted to share my current favorite to send…
Aren't these adorable?! I found them downtown while browsing in a little boutique. Just love them!
If you'd like to purchase the card organizer, you can find it here on the TCS website for just $12.99…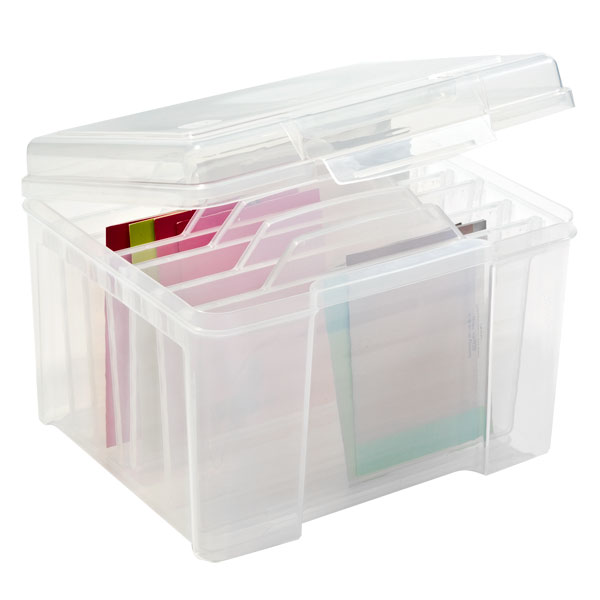 I have a busy week of client projects, but hope to get back in here to share more of my Simply Done features. I'm so backlogged on sharing those fun client before & afters! Soon!!