Candles are something I absolutely love! When lucky enough to work from home, guaranteed you'll find one burning on my desktop. It brings me peace. And it brings an element of beauty into my space because I enjoy candles that come in pretty containers. 2 of my favorites candles are the Provencal Bath collection from Restoration Hardware and the Balsam & Cedar candle by Illume…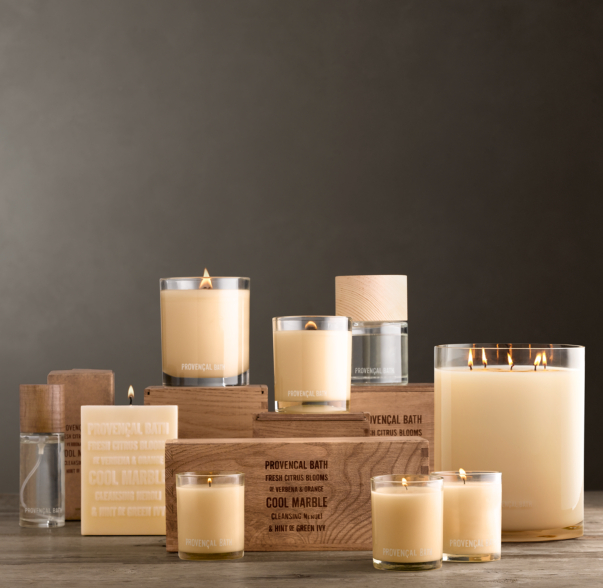 Both smell amazing, aren't too strong in fragrance and come in a beautiful jar. I love the mercury glass of the Illume candle.
But when the candle burns out on its final day, I find myself wanting to re-purpose it as a container or vase. With the number of teacher or neighbor gifts on my list at any given time, it's always good to have jars available for candies or flowers. Or I'm happy to just re-purpose somewhere in my house. The glass jars can even be turned upside down to give height on a table arrangement. Or … why not just re-purpose as a new candle holder!
Did you know you can easily remove the wax from nearly any container in order to re-purpose it? It's as simple as boiling water…
Filling your candle holder…
And watching the wax float to the surface. You can already see the boiling water going to work here…within seconds…
The water causes the wax to liquify and bubble to the top. Another positive to this task is that your home will smell amazing…as the candle melts, it smells as if you're burning it.
After an hour or so, I returned to the kitchen to see this…
The Restoration candle wax came right out as a little disc…
All that was needed was a quick wash and wipe down. The wick came right out without any trouble as well…
Good as new! And ready to be useful again…
The Illume candle was easy to clean. The wax was softer so I used a butter knife to gently remove the wax from the top…
Then I wiped the very soft wax and wick out from the inside of the holder…
I'm seeing a new mercury vase in my future!…
This is one of the easiest tips for cleaning and re-purposing a candle holder. I'm sure you'll see these two in a future post full of flowers or Easter candy! Or as a useful organizer of some kind.
If you'd like to purchase the candles in this post, you can find the Illume candle here and the Restoration candle here!
Hope you're having a good Friday everyone!