Happy Monday everyone! Hope you had a great weekend! With the elfa sale coming to a close on Saturday, I was busy Friday designing 3 closets and 1 garage wall (at the last moment, of course – but hey…it was 30% off!). I also did a wonderfully fulfilling volunteer organization project on Saturday that I'll share more about soon. Then Sunday was full of kid sports, neighbor friends popping in to play and grocery shopping for the week. Don't think I could've packed more into such a beautiful weekend and hope you had a nice one as well!
Today I'm kicking off a new ongoing series – Simply Organized Style. Don't worry – you'll still see way more organizing than style outta this not-so-stylish blogger. Unless of course you guys are interested in seeing more of what I wear…in which case I'm happy to share more often. The reason I'll occasionally fold in these posts is due to the questions I receive over e-mail and on my Instagram feed. Figured sharing things on the blog would be easier. It's hard to leave a long comment on IG.
I am NOT a fashion girl and, honestly, don't think I have the best sense of style. But do know the clothing I choose tends to be more classic and practical…yet cute, fun and something most of us can wear. Some people resonate with my vibe and ask where I got this or that. That includes skincare too! I get a lot of questions about my skin. Not my hair, funny enough. Who knows…ha! I'm not trendy and certainly not a trend setter, by any stretch. The most received question to date has been about these boots, for example…
Yes, I'm obsessed…and sadly, no longer seeing them available on the Nordstrom site. You can see me in these booties here…

And here…
And here too…

Anytime I'm wearing these in my IG feed, I receive comments or questions. I love these boots. I live in these boots. And now that they aren't available am sad as I was considering a second pair for the day I wear these into the ground.
When I work with clients, how I dress depends on the job I'm doing. Sometimes I'm in jeans, a tank and boots…sometimes I'm in old leggings, a workout top and tennis shoes. For the sake of this post, I'm going to share what I typically wear if it's a jean and tank day. This is pretty much a Sam standard…
This is comfortable yet still cute enough to show up at someone's home or office. And then still look relatively nice during carpool. You can see here what I'm wearing specifically and shop right from the feed, if you like!

For a quick close-up of each, it's the boots shared above paired with Rag & Bone jeans…
A Michael Stars tank…
And my new favorite sweater / jacket from Anthro…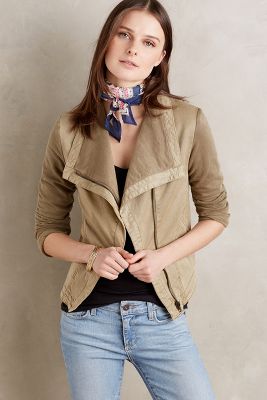 Not kidding when I say as of late you can pretty much find me in this outfit 4 out of 7 days of the week. The weather in the Bay Area has been pleasant enough to not wear a heavier jacket…but we still need something. It's *that* season. #layers
This muscle tank is literally my go-to work shirt…
I don't like to work with sleeves. I've mentioned before that I can't even work on the blog with sleeves. So bizarre, but we all have our thing, right?
As mentioned, I tend to go with classics. You can imagine that, as a professional organizer, I'm the practical personality type…for me to buy trendy clothing only to make an additional investment / change in my wardrobe later…that's just not me. I opt for items that are quality and last a long time – both in style and in wearability / washability.
When I share these posts you may notice I tend to go for a higher price point, but am careful to bargain hunt or buy when on sale. The boots were purchased during the Nordstrom Fall Sale, for example. I tend to buy nicer simply due to the fact it lasts longer. It's not because I have tons of money to spend on endless amounts of clothes. On the contrary. I buy nicer things because they last longer. When I buy a tank from Target (and trust me, I have a lot of those in my closet) they are short-lived, fall apart, fray and before I know it strings are coming off their hems. Totally fine. There's a place and time for a Target tank. But when it comes to purchasing a nicer tank that will last longer, those tend to be found in a nicer store like Nordstrom or Michael Stars. Those are 2 of my go-to stores for classics.
I hope this is a series you guys will enjoy! I was recently invited to join Reward Style and promise not to overwhelm your Simply Organized feeds with links to buy stuff from me. I'm sharing this way as a means to help those with questions. When I post an image on IG, the questions flow. This great site allows me to share and give you an answer immediately while bringing you directly to the source for purchase! Even The Container Store is an advertiser with Reward Style! Look forward to sharing another post for you soon – I'm thinking my favorite workout clothes…because that is what you'll find me in those 3 other days of the week. Sometimes more!
Have a good day everyone!