When it comes to decorating my home, I have a comfortable style and opt for pieces that can be used in more than one way. The decorative items I love transition well through all seasons. Not sure about you, but I don't really enjoy the process of re-decorating each and every season. I know, what kind of blogger am I? And I certainly don't have the budget to purchase new things I fall in love with at Pottery Barn each season. Instead, I add little things here and there, working my way around items that are out all the time. I also like purchasing pieces that can be moved from one table surface to another. Would you be shocked to hear me say I'm not a nik-naky type girl? When I purchase something it's because there's a spot for it, a spot that's lacking a little cheer and pretty.
For home furnishings, I find myself following in line with that same habit. I purchase pieces that can easily move from one wall to another (one home to another!) and each piece has more than one function. I've been known to use my console tables as dessert tables when entertaining. I work my way around table lamps, adding cake stands for height to display desserts. I'm a space planner by nature (and profession) so I love it when a piece functions in more than one way and keeps you organized…really packing a solid functional / organizational punch…but with pretty boxing gloves on, of course.
A few years ago I purchased an amazing buffet that doubles as a bar and been in love with it ever since…
You can see here the top surface serves as another much needed space in the house for decor.
It's the Torrens Bar Cabinet from Pottery Barn. I purchased it while living in Arkansas and was so happy to find the perfect spot for it here in the California house.
But this is what makes this bar so unique…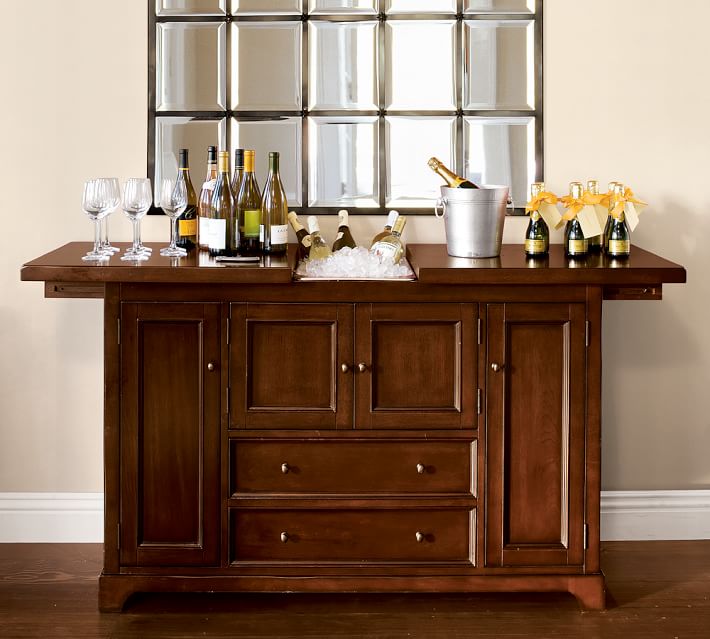 Yes, the top slides open to insert the included ice bucket…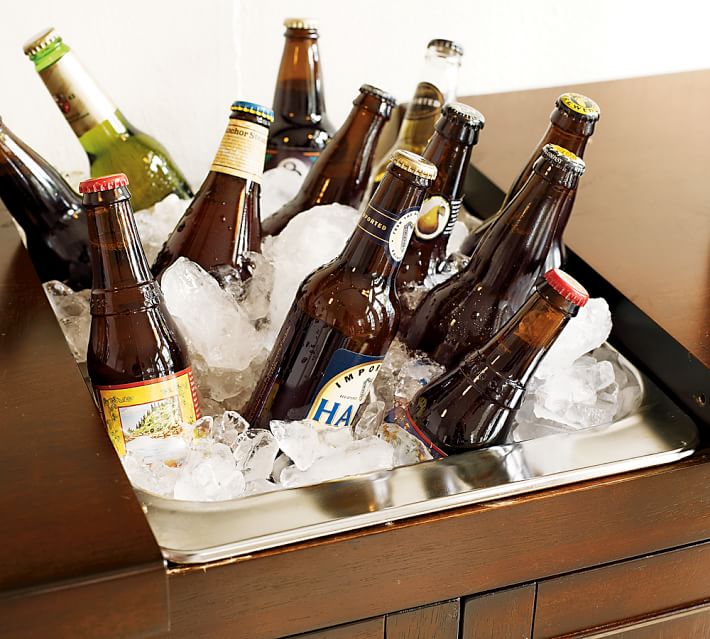 My cabinet included an additional leaf to add more table top space, however I'm not seeing that feature on their site anymore.
Besides the ability to make this cabinet useful while entertaining, when you aren't having a party the storage is incredible!…
I love storing alcohol and sparkling waters / drink mixers in the large cabinet. In the side cabinets, I organize bar accessories…
The 2 spacious drawers below have been useful for folded table linens, placemats or cloth napkins. Over the years these cabinets and drawers have held other entertaining pieces or small candles. The options are endless.
And it's just a stunning piece!
I added a mirror over my cabinet and change / tweak the tabletop decor depending on the season. This is how it looks now, decorated for Mother's Day and my birthday (which was yesterday)…
My current decor is a mix of flowers (fresh and faux), candle holders and my favorite scented potpourri from Pottery Barn. The shells, rocks, driftwood and starfish in the glass container are scented with "ocean"…love love that scent!…
( Mercury Glass Pillar Holder // Similar Spring Arrangement )
This is one of my favorite furnishings in the house. There's a large wall in need of  updating. It's a wall between the playroom and kitchen. I've had my eye on this for a while. This was the complete set up in my local PB and I fell in love instantly. As the picture proves, there is a ton of storage…yet you can make it beautiful with decor while not entertaining.
( Benchwright Entertaining Console )
Better book more client hours to afford this beauty!
Do you have a bar organized in your home? Maybe a bar cart? I've been inspired by some beautiful bar carts. One day I'd love to own one but with 3 kids, that's just a disaster waiting to happen.
Happy bar organizing!