Fall decorating is officially underway over here! Have you started yet? Already done? I started decorating mid-September. Nothing like the accomplishment of being the first neighbor to drop the mic on outdoor holiday decorations. Oh yea, the neighbors were glaring  head shaking smiling in envy. Ha, kidding! To be honest, my tight October schedule coupled with the successful goal of hanging my gallery wall is ultimately what sparked the early decorating bug. With the photos up and off the entry table (here), I was able to decorate this little space to ring in Fall…
Which then extended into decorating outside near the gate…
And continued to the front door…
There's some interior decorating going on too, which I'll share soon!
What I've noticed is that with each bin I bring in from the garage, I'm doing equal parts decorating as I am cleaning and organizing. Sound familiar? Cleaning and organizing – it's not only intended for Spring. Instead, it's an ongoing effort that occurs throughout the year. The seasons create a natural marker to get that deep clean and organization on the books. So I'm doing more than decorating – I'm cleaning too. As well as purging clothing the kids have outgrown or randoms things around the house. It feels great!
When I pick up summer decor to pack it away, everything is getting a wipe down before storing and I'm cleaning surfaces where the decor sat for a few months. It's dusty – and has been very satisfying to know surfaces are being cleaned after a few months of not being touched by a rag.
Surprise behind the scenes tidbit for you…I also clean and vacuum for clients. Truth! If you hire a professional organizer, chances are they'll be found cleaning your house in some way, shape or form. Just makes sense since we're clearing out a space and then reorganizing. With everything out, it's easy to clean it up. Personally, I love to see moms smile about their newly organized space…and then love to hear their reaction when they notice the space has also been cleaned.
Is there anything more indulgent for a busy, exhausted mom?!
This is also true – and I'm NOT being paid to say this – I bring my own cleaning products. #BYOCP But first I ask if they have a preferred product they'd like me to use (especially if it's wood or laminate in a closet). People have aversions to scents and many, understandably, have issues if the product isn't environmentally friendly. The only product I use for cleaning is Mrs. Meyers.
Again, not being paid to say that!
And every time a client hands me the product they'd prefer I use, 99% of the time it's Mrs. Meyers. I've smelled all of their scents because my clients have different products in their homes – it's funny!
I order my cleaning products from Grove Collaborative. A few years ago, when known as ePantry, I shared their great service / reader discount on the blog. Following that post, I continued working with them personally to have green cleaning products conveniently delivered to my door. Sounds crazy that I wouldn't stop at my local store to grab products, but we have busy schedules. If it's one less thing to do at the same great price (if not less money!), why not have it delivered? And my personal favorite is that I get to choose the scent. Sometimes my local store doesn't have the scent I prefer (lavender). There are a few in the Mrs. Meyer's line that I don't particularly enjoy (I'm prone to headaches), so ordering online gives me the option of choosing. And also ensures I have cleaning products on hand 100% of the time for client work.
But in all honesty, I love the way this company operates. Not only do they care about the environment, they care about YOU! That's not an understatement. Proof?
Just last night, while finalizing the details of this post, I received an e-mail from their team. They had been planning to surprise 10 loyal Simply Organized readers with a secret flower delivery as a thank you. How sweet are they???
Seriously?!
Instead, in light of the devastation that Hurricane Matthew has created in parts of the USA, they have decided to randomly select 10 SO readers who join Grove during this campaign and make a $100 donation in their name to the Red Cross Hurricane Relief fund.
How amazing is this?!
Once selected, they will email to let you know they have done so on your behalf. It's just their way of giving back where they can. I'm telling you – love this company more and more!!
Back to more excitement…
I was thrilled to discover Mrs. Meyer's 2 Fall scents – Apple Cider and Mum!…
And even more excited when Grove reached out (thank you, Grove!) to offer Simply Organized readers 3 of these products plus a beautiful hand towel FOR FREE!!!
But only until this Sunday, October 16!
For a limited time you can choose your set in either scent plus a free hand towel (pictured below) using my referral link…
If you're a new customer, click here to receive:
1 Free Mrs. Meyer's fall seasonal hand soap
1 Free Mrs. Meyer's fall seasonal dish soap
1 Free Mrs. Meyer's fall seasonal multi-surface spray
1 Free Grove Collaborative kitchen towel
Free 60 Day VIP trial
Free shipping
Even if you've already discovered Grove Collaborative, we've got you covered. If you have an existing account, click here and you'll receive the kit for 50% off!
To take advantage of the offer, your order needs to total just $20. In your first order you may want to consider my friend Becky's glass spray bottles…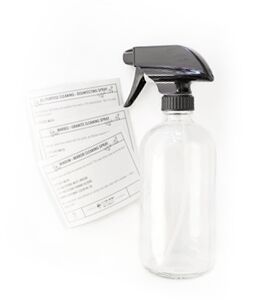 Avid blog readers likely already know Becky of Clean Mama. She has an addictive, popular blog! In my years of blogging, she's become a great friend and now has her own line of green products sold on the Grove site. I love her glass bottles! Again, not just saying that – this is true!
Anyway, just make sure your basket totals $20 (2 glass cleaning bottles, perhaps?) and make sure to click through my referral link in order to receive your FREE products. My referral link is here. You don't even have to leave your couch to sign up, but you do need to hurry because there are a limited number of sets available and hear they go quickly.
How to grab yours!…
Sign up for Grove Collaborative here. You will receive the Mrs. Meyer's offer for free when you sign up!

Answer 4 quick questions about your home that Grove Collaborative will then use to customize your first basket.

Once you've answered the questions, you can finalize your basket of products to suit your household needs by adding or removing items.

To receive this offer, your order needs to be a minimum of $20. Choose the combination of products and scents you love and receive in your first box.

You made it! Click Finish & Pay and place your order.
Tip to save: Once you've submitted your Grove order, be sure to sign up for the free 60 day VIP trial. You'll get free shipping, free gifts, price matching, exclusive sales, and personal service.
You guys know I only chat/blog about products or services I personally use or my clients have raved about. Many times I'm purchasing the items myself and then sharing my experience through random blog posts / when appropriate. I truly hope this is an offer you love and can take advantage of. Otherwise, I wouldn't be sharing it.
We all have the task of cleaning and sometimes lighting that favorite candle or smelling something wonderful is just the kick in the pants we need to get it done. I hope these 2 Fall scents will cheer you up this season during those mundane cleaning tasks!
Happy cleaning everyone!
This post includes some affiliate links for your convenience. All opinions are my own & I only recommend products or services I use personally and believe my readers will enjoy.