Hello hello! Been a while since you've seen a post. Life has been busy busy and full – all good things. There's much to update, but here's a quick list as to where I have been. A big shout out to my planner for helping me remember exactly what has been happening over the last 5 weeks:
A couple big client projects – multiple closet designs and a beautiful new kitchen. Coming to the blog soon!
Finalized my new partnership with The Container Store – SO is the newest independent professional organizing company with my local store. Details coming to the blog soon!
Prepping for and attending the Better Homes & Gardens Stylemaker event in NYC – had a great time and you can bet images are on the way!
School conferences – which means my people were out of school 1/2 days over a 2-week span.
Wrapping up the speech writing process for my keynote early next month – more on this below.
Honestly, there's a much longer list of topics – both work and personal – that have kept me away from my computer and therefore the blog. When I go more than a few weeks without blogging, I feel pretty down. This place is a positive, fulfilling highlight and I hurt when I don't have the time to write, share, photograph or update. I am just happy to be back and look forward to what's coming up!
KEYNOTE SPEAKER
A few weeks ago, I mentioned that I'm the keynote for the Professional Organizer's in Canada conference next month. Such an honor!! Since I am not a trained public speaker and love to hide away in closets and garages, I planned a shut-down for the month of October. Now that I'm a full week into the month, am realizing just how great an idea this was. I'm still working on a couple brand partnerships, but am not working in person with clients. (Well, I say that but of course I worked with 2 clients early last week – but that was it!) Instead I'm focusing on the last details of the speech and spending the rest of the month practicing over and over…and over…again. I'll practice until I feel totally confident with the material. Which means right up until I step foot onto the stage to give the speech – ha!
While practicing (in my head and out loud), I've been working on a few home projects. Most importantly, my sad and cold home office. And it's a good time for me to focus in on this room (finally!) because the One Room Challenge from Calling It Home kicked off on October 5! This year I have the opportunity to participate – which is something I've always wanted to do. Since I'm hopping in a week late, my next post in this series will be a quick recap of where this space was and where it currently is now. For starters, my home office is at least painted now!…
MY HOME OFFICE IS PAINTED!
My kids were out of school on Friday and Monday. My oldest also turned 13 yesterday (what?!). With the slower pace and down time around the house (I'm sorta laughing as I say that), I figured I would knock out the painting in this space. The weekend was the best time to get this project completed because I'm focusing my entire weekdays – when everyone is in school – on speech prep / practice.
That and I finally ordered my office furniture…so that was the final push to paint before everything arrives. Yikes!
Don't get me wrong, I LOVED the color the office was to begin with. It was Benjamin Moore Sleigh Bells…
The walls had holes to be patched and there were scuffs here and there from living in the space the last 4 years. I also wanted to brighten the room and not have too many clashing colors once my new office collection arrived…
On Friday afternoon I started patching…
On Friday evening I was burning the midnight oil trimming and cutting in…
The new color is Benjamin Moore Decorators White. It took 3 full coats over the long weekend to cover the gray…
Sounds like my hairdresser. Ha!
Anyway, I can not be more pleased with the outcome! Love the bright airy feeling in this space…
I went with the same Matte Select finish that was used throughout the rest of the house. It's held up pretty well and love the velvet finish…
Here's a look at the kid's side of the office, where you can see furniture against the wall color…
So bright and pretty!
HOME OFFICE FURNITURE
I'm telling you, the struggle over the desk was my worst experience by far. I knew 100% what would span the back wall under the window. It's a combination of this desk and 2 sets of drawers, which fit like a glove along all 110″ of wall space…
( desk )
( drawers )
I'm not adding the 2 hutches over the drawers, instead I'm adding floating shelves.
Having the 2 sets of drawers and the desk along this wall will give me that large, wide flat surface I need for working on client designs or wrapping gifts. Or anything where I need to spread out. And the drawers will more than contain my office supplies. Did I mention those have been living in my bedroom and it's a huge mess because of it? I can't wait for these to arrive – I ordered them over a month ago. Supposed to be here any day.
With that decision made and purchased, I then agonized over a desk. I wanted the desk to float in the middle of the room on top of a pretty carpet. But I was torn between my very favorite…
( desk )
and these 3…
( desk )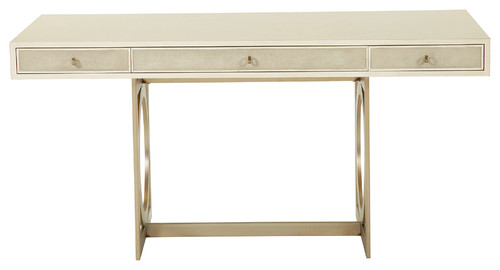 ( desk )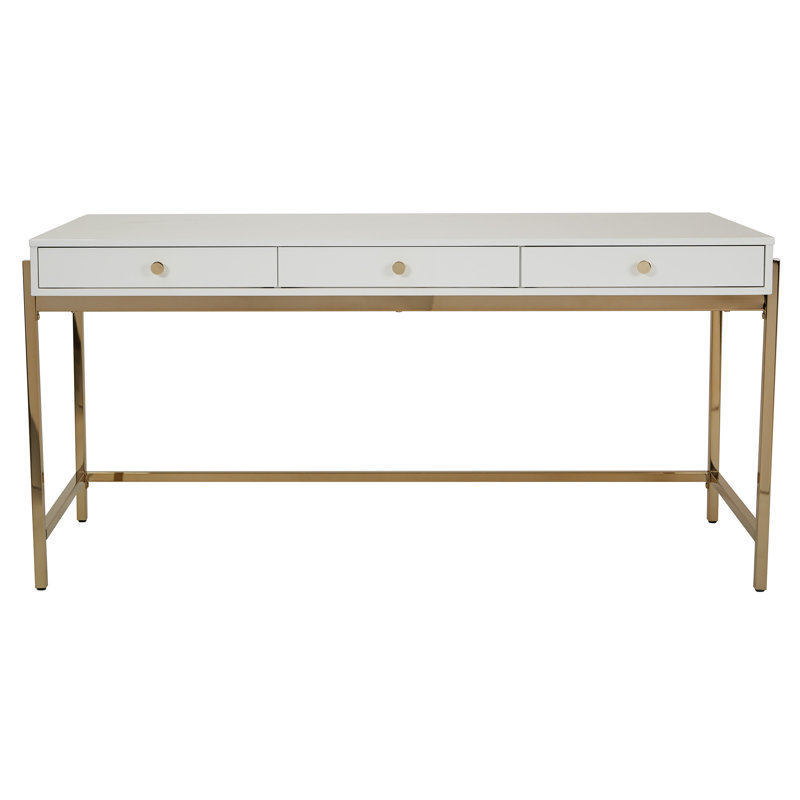 ( desk )
To be honest, I am still not 100% sold on the choice I made. It may arrive and I'll send it back for another option. I went with the wood desk from Pottery Barn. With everything being so white in here – the walls, the kids side, and the back wall of drawers…another white piece?! It would be too much I think. Do you think?? I needed something more natural in here, but am not in love with the full wood section under my feet. I want that section to be open to make the room feel and look bigger. Not have the desk be so heavy. Does that make sense?
So of course, I'm thinking I'll get it here and when they are assembling it, I'll find out if that section is removable. haha! If not, and I love the desk, guess what? Mama's hacking this baby. Between me and my handyman, I am sure we can make it look perfect but just cutting away that small section. We'll see!
I'm still coveting the first desk but wonder again if it's too much white? Or too much silver?? Would love your feedback guys!
I'm thinking with the wood desk, my floating shelves would be similar in color. Something like this…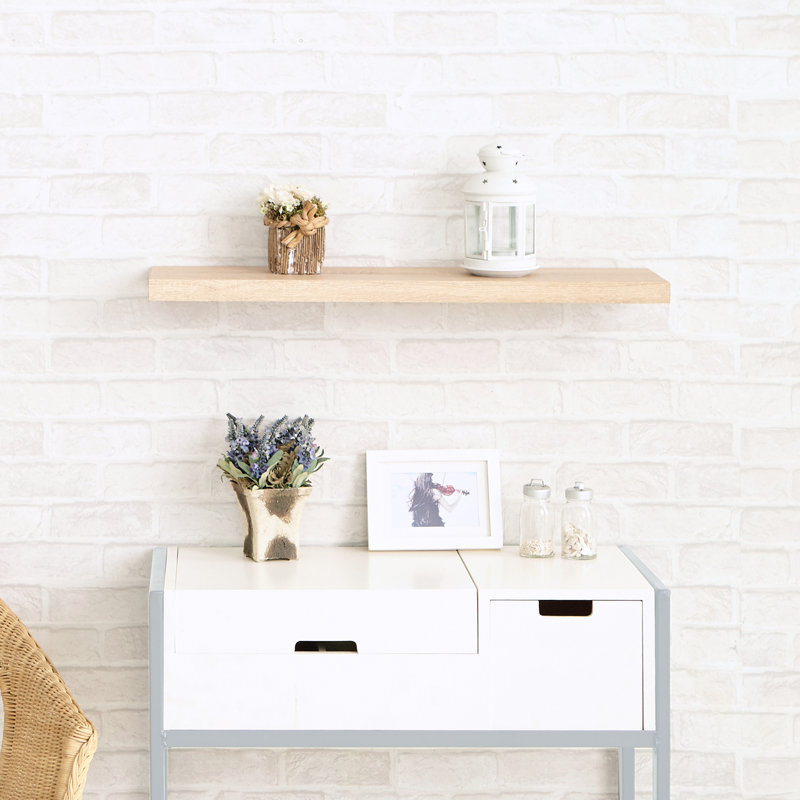 ( floating shelf )
Considering a shelf bracket beneath them, similar to this but will wait to see how the shelves look in person or if I really need to mount for extra security. I do plan to use the shelves as additional storage.
Ugh – I don't know. I told you, been tough making this desk decision. The desk surface needs to be large enough to hold my computer monitor. And I do love the raw wood element.
And now that you've had a peek into my crazy brain…
#ohboy
WHAT'S NEXT?
I have a couple other projects I'm planning to tackle this month while working on the speech. One is the laundry room – removing the bulky cabinets, painting, adding floating shelves and new containment for supplies…and now that I see this photo, maybe a new light. Yikes!
And I'm building a shed that will sit on a new concrete pad in the side yard. It's going to contain all of the new cushions from the outdoor patio when the season is officially over and before the rain begins. And am hoping it will contain a few yard supplies to get them out of the garage.
I'll be back soon with a Stylemaker recap. Hope you are having a wonderful October!
I'm participating in the One Room Challenge!
SaveSave
SaveSave