Besides running this crazy fun business, there are lots of *this and that* type topics swirling in the background. And I've been meaning to dump it all here for your enjoyment! In this installment, an update on my home office, a couple announcements and some sale items I've run across that are worth passing along. Get comfortable – there's a lot here.
So in other news, shall we?…
HOME OFFICE UPDATE
My home office is still enjoying a "minimalist" vibe…have to admit, I'm enjoying it. Something freeing about pulling my chair up to a folding table. Last we left off the space looked like this…
Aaaaaand it pretty much looks the same now. That's not to say I haven't been working on (obsessing over) a design plan, because that is absolutely happening. There are just too many beautiful options and you know me – I want the outcome to last. I'm scouring over every last detail to make sure what I purchase is going to last forever(ish).
Originally I was going to re-paint the same color, which is Sleigh Bells by Benjamin Moore. This was the freshly painted space 4 years ago…
( see my house interior paint colors here )
But I decided to change it up and go with a white – yep, keeping it bold, Sam. Ha! It's likely going to be Simply White by Benjamin Moore. You can see the color in this great palate assembled by Studio McGee. (You don't want to miss seeing the spaces where they used this color too – stunning!)…
As they mention, it's a soft white. I am opting for white because I want to add the color from an area rug.
So moving on to rugs, I found amazing rug deals on Joss & Main. After falling in love with a few from Dash and Albert, which were FAR out of my budget, I was able to find several I loved on the Joss & Main site. I'm loving this one…
Love the blue! I'll add a nice pad underneath to give it more comfort because it appears to be on the thin side. It's a rug – I don't want to pay $1,200 for something that will inevitably get dirty. Remember, I have 3 kids who do homework and projects up here.
For the office furniture, I'm pretty much set on this desk…
I'm going to float it in the middle of the room. I really really really wanted to go with the full glass top desk, but I know I'm going to want drawers. Drawers will allow me to clear the desktop easily to spread out work projects and papers. But isn't this glass top desk stunning?!…
Love them both, but yo girl needs a few small drawers.
With the desk floating, I am going to add 2 bookshelves on either side of the window and a smaller desk directly under the window. I'm deciding between these 2 bookshelves…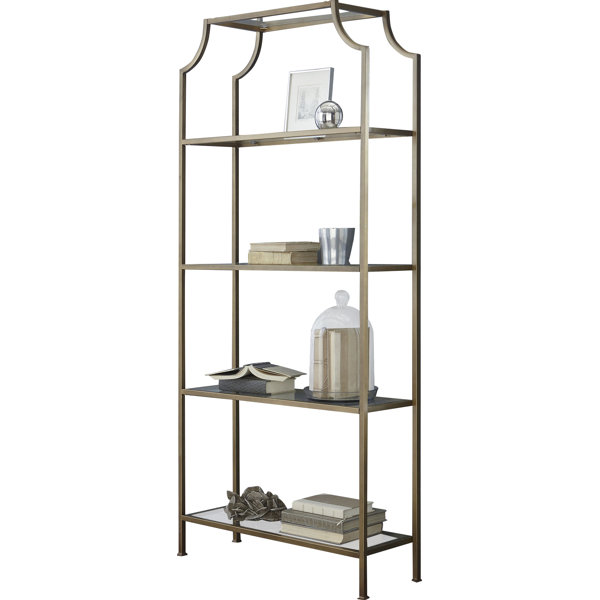 ( source )
( source )
Shocked to see more drawers? Ha!
You know I had the open shelving before with lots of little bins and baskets to keep everything organized. I'm still going for that convenience, but having a few drawers in here would be nice. I'm leaning into the white shelf because of the drawers and I'm worried the gold shelf might clash with the desk's silver legs. Anyone have design-eye thoughts on that?
For the small desk between the 2 shelves, am thinking something very simple from Ikea would do just fine. Something like this…
But that will depend on if the color matches to PB's "white" …. which is really an off white.
My thought is another flat surface under the window won't hurt. It will give me space for client files (which I keep in a portable filing case) and other desktop items to sit, as opposed to them sitting on the main desk. And if I need another clear space to spread out, all I have to do is turn around to find it. And more drawers never hurt anyone!
In my dreams this is what would be along the window wall…
But the price tag hurts.
What I would do though is change those 2 towers – I'd have open shelves, not glass doors. I also wouldn't need all the filing space…just the flat desk surface, so not sure if Pottery Barn offers just legs for the desktop. Going to figure it out though. If I can get the cost down significantly, this may be what goes along the window wall. Would work SO nicely!
I'm leaning into Ikea items for the kids side of the office and I'd like to set up a small space on the tall wall for more work surface, gift wrapping space, etc. The main pieces however (rug, bookshelves and desk) need to get here first so I can decide on the rest. Feel like it will all fall into place after those items arrive. Sorta excited to have found some cool Ikea pieces – I've not really ever purchased it for our home so will be kinda nice to mix it up.
This space will obviously come with a lot of updates all their own! For now, that's where I am.
KEYNOTE SPEAKER
This still completely blows me away (hourly), but I am honored and excited to officially announce I'm the keynote speaker this fall for the Professional Organizers in Canada conference! Anyone care to join me in Toronto?! (say yes!)
I'm continually amazed where this little business and blog have taken me – and you! Because we're in this together, folks! But the honor of being asked to kick-off a conference for my professional peers is a big fricking deal…HUGE…and one I couldn't pass up.
In the midst of everything going on, I'm digging deep to begin developing the framework of my speech. I am working with an incredible speech writer (a personal friend) which is certainly helping me stay on track with deadlines and the overall structure. I want to nail this speech and the pressure (all coming from within, of course) is great. It's going to be incredible to share my story and motivate / inspire this wonderful group of organizers. Seriously so excited about this honor.
A fellow Canadian organizer, Allison of Everything In Place, suggested the planning committee consider me as the keynote (without me knowing!) and they ended up offering me the role. Can't thank her enough for having the confidence in me without ever having heard me speak in public. This is an amazing opportunity and she's a total doll! Be sure to check out her website!
Here's the official announcement for safe keeping…
I will definitely share more details as this unfolds!
NORDSTROM SALE
You know your girl loves to keep it casual, so when I saw the Nordstrom Anniversary sale catalog, I flipped directly to the athletic section. I live and work in athletic clothing. Long gone are the days this type of clothing is affordable. And if it is, it doesn't last very long. I try to purchase high quality and find items on sale. Anytime I can snag a good deal, count me in. And Nordstrom carries my favorite work pants. Just purchased 3 new pairs last month (of course at full price – *smacks forehead*). It's the Zella high-waist legging for those wondering – I've talked about them before but I seriously love these pants! And they are on sale for $35 right now – they last forever and as their named, you will truly live in these…
( pants )
If you're lucky enough to have early access to the sale (I'm not!) you can shop now through July 20…then the sale is open to the public.
Anyway, I did check out the rest of the athletic section and found some nice stuff! Here's what I'm purchasing as soon as it opens to the public…
( tank – $24 )
( muscle tee – $28 )
( workout pullover – $39 )
I'm on my feet all day and comfort is a must. Since I'm on my feet so much, I go through work shoes pretty quickly. I'll definitely be purchasing a few tennis shoes for fall work and I love these…
( shoes – $90 )
And you guys know I love booties for the fall / winter – but no heel over here! In the fall / winter I wear them to work with jeans and love the flat options. My favorite has always been Born brand, but not sure what their fall style will look like. These Birkenstocks are part of the sale and look cute – will try on in store first though…
( boots – $120 )
The Nordstrom sale is a great time to get back to school clothing, holiday outfits for the kids, and don't forget about some early Christmas shopping. There is a lot on sale and it's definitely a good one to take advantage of. The early access, as I mentioned, is through the 20th but then the sale ends totally on August 7.
BETTER HOMES & GARDENS STYLEMAKER 2017
You can bet I'll be in store shopping for a speech outfit! And….I'm grateful and honored to have been invited back as a Better Homes & Gardens Stylemaker this Fall! (seriously?!) So I'll be shopping for something cute to wear to that event! The event is at the end of September in Brooklyn. Looking forward to joining this wonderful event again to learn from experts and reconnecting with great blog friends! We had so much fun last year and realize, I still owe you a recap. Ugh! Such a bad blogger!
( Brittany of Addison's Wonderland | Shauna of The House of Silver Lining | Rebekah of A Blissful Nest | Me! )
There's a lot more going on but I'm going to save it until next week's episode of "in other news". This weekend I'm shooting a video in partnership with Ace Hardware and you guys know how comfortable I am in front of the camera – *laughs out loud*. This will definitely make it to the post! And Also hope to have a outdoor patio and front porch update for you!!!
Have a great rest of your week!!
SaveSave
SaveSave