Happy Monday! Happy FIRST Monday of February!
Couldn't wait to get back to work this morning. In addition to great organizing projects on the books, I've recently started an intense online business program. In the last few months I've been struggling with a few parts of the business (all the boring not fun stuff that is not related to organizing or working with clients). Let's be honest – since starting this business I've struggled with internal business stuff. It doesn't come easy – I'd rather be organizing! Anyway, I finally took the leap and went back to school. When I'm in a bit deeper, I'll share more about it. I've already learned a ton – what I'm doing correctly (actually crushing it) / definitely don't need the help…and what I am clearly doing wrong.
And I've already seen so many areas I can grow and change where I've already built the foundation.
In one of the first modules our coach (not calling her a teacher) had us pick a word of the year. This isn't anything new and sure you've heard about this idea before. But I have never chosen a word of the year. After going through a few exercises, I narrowed it down to 3 words; Simplify, Mindful and No.
Ultimately I landed on the word SIMPLIFY.
That is my word for 2020.
And when I look at my goals for the business and personally, it could not be a more perfect focus word.
Anyway, look forward to sharing more! And getting this business solid.
Moving on…am here today sharing a pantry refresh from January. For one of my favorite local moms! This is sweet sweet Molly of Branches & Blooms…
The day I was organizing her pantry, she was busy assembling a flower order. I snapped these when she wasn't looking…such a doll!
Molly started her in-home business just a couple years ago and is already highly sought after for her stunning and unique arrangements. She is such a giver and so talented!!! Excited to know yet another female small business owner in my network. Love supporting this one and sharing her with anyone / everyone I can.
Definitely check out her Instagram!
SIMPLY RE-ORGANIZED PANTRY
I've organized her pantry before, but after the long holiday season it needed a quick refresh. I updated with the existing containment but added a few clear bins to help her better see the contents…
You can see here on the right side I updated the wicker baskets to a see-through option that wasn't available during the previous organization session…
( wicker baskets | clear bins )
I love these larger clear bins! They are taller than the usual deep shelf bins I've sourced in the past, which means they hold larger pantry categories perfectly…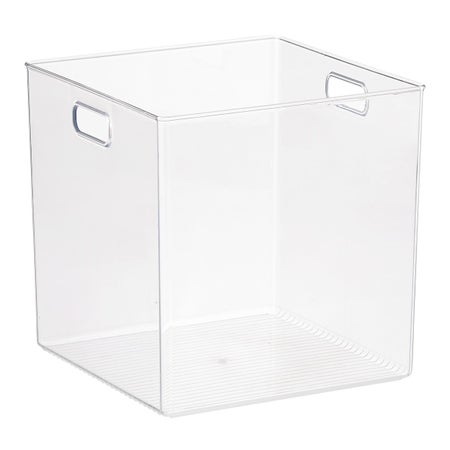 I also updated her baking items to Oxo Containers. Since they don't bake very often, they sit nicely up top…still in sight and easy to grab with a step stool…
There's plenty of ways to label your spaces – it's a matter of doing what works for you and makes sense. In her pantry I added clips to the top row of short wicker bins, labels directly on the shelf fronts for the turntables, labels on the clear containers, and no labels required for the counter snack baskets. Those make it pretty clear to see what is what!…
Just stunning!!!…
I have loved her pantry since seeing her home under construction several years ago…it's a modest size, crisp and beautiful. Just enough space. And now totally re-organized for 2020!
SHOP THE POST
If you spied any products you loved, here's a list of everything I sourced for her pantry!…
Back soon guys!
xx,
Sam
*some affiliate links were shared for your convenience. you will never pay anything for clicking any link anywhere on this website. mean it! thank you for supporting this blog so I can continue to deliver excellent content! xo