No matter the season, the front porch is one of my favorite places to sit. For morning coffee or evening cocktails. But do have to admit this tree changing color in the Fall makes it extra special…
I'll head back out later today or this weekend to snap a few more pictures. The leaves get more gold every day and they are blowing away quickly…makes me sad how short this phase is…
The sunsets in front are stunning.
FRONT PORCH
Because we're sitting out here a lot more, I moved my 2 favorite patio chairs and side table to this spot. The throw pillows needed updating and I added a few new throw blankets…
Funny how updating a space makes it more appealing – to everyone. Found this guy cuddled up waiting for friends to arrive…
The pillows are really cute and these soft throws are less than $9!…
( pillows | blankets | basket | chairs )
With the wedding behind us, I wanted to update the porch just a little bit. I didn't want to go all out because I have big plans for Christmas decorations.
I pulled out my favorite plaid rug that's here every year…
Layered it with the other rug that sits here year round…
Then just added more twinkle lights and freshened up the pumpkins.
NEW ENTRY TABLE
I finally got around to picking up a round entry table…
And have to admit, I'm not totally in love with it. The only reason it works is because of its size. This table captured me because it's advertised as a weathered-grey color. You can clearly see it's nowhere close…
It almost has a green tone to it, right? It's likely going back to the store. I LOVE the price – only $199. I am considering refinishing it myself since it's a great price and the size works so well here. But hashing it out. It's from World Market. Here's how it looks on the site…
See what I mean!!! Totally different color…
I did wonder if I just got a bad one.
My struggle in this space, besides the table needing to be less than 35″ around, is the hardwood floor color. There's a dark floor with a whole lot of white wood trim. A table I did see and like is this one from Arhaus…
Saw it in the store. I think a marble tabletop would accent this spot nicely. You can customize the top and the base as well. But the smallest size is a 39″ round…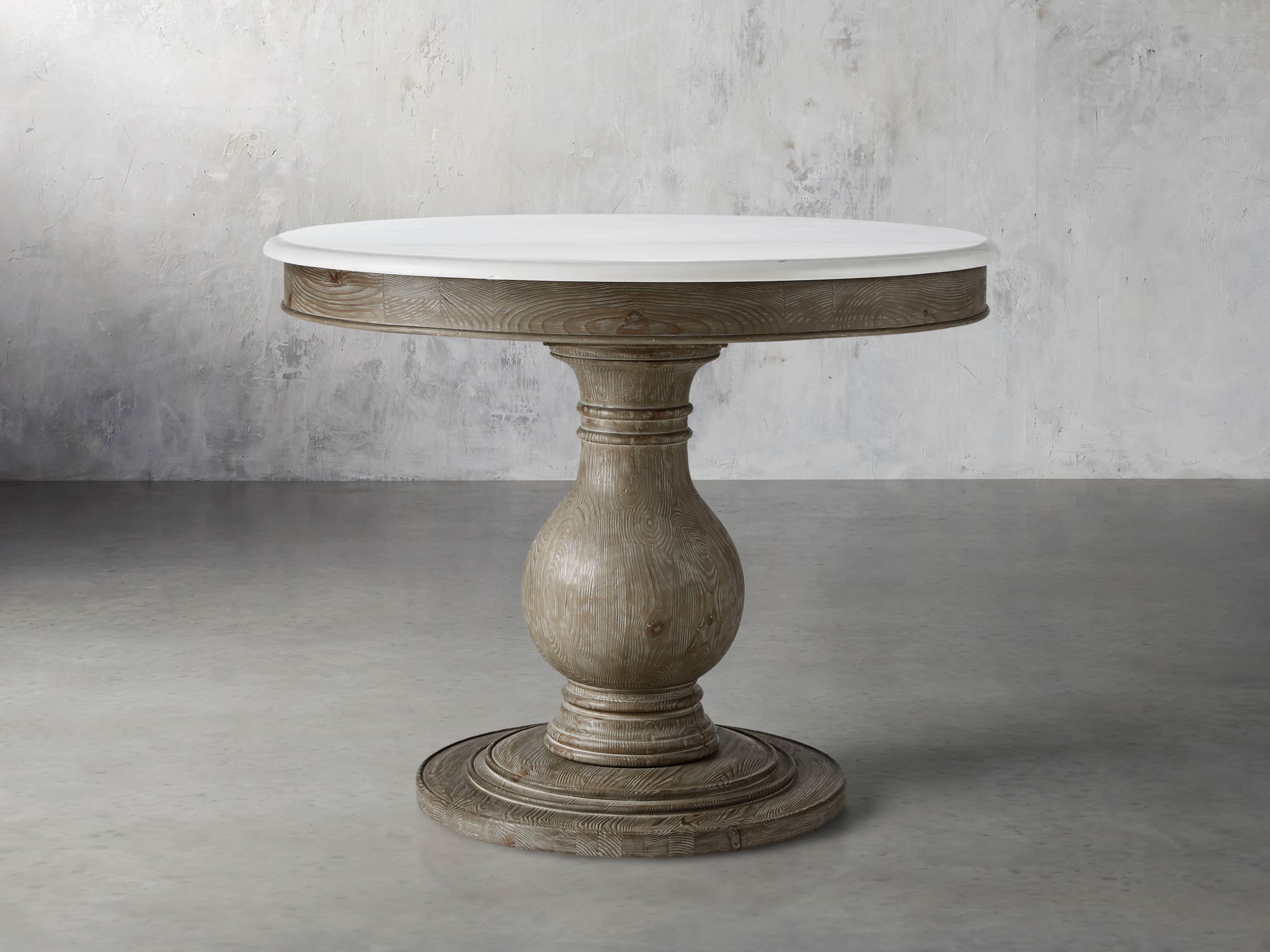 The white is nice too…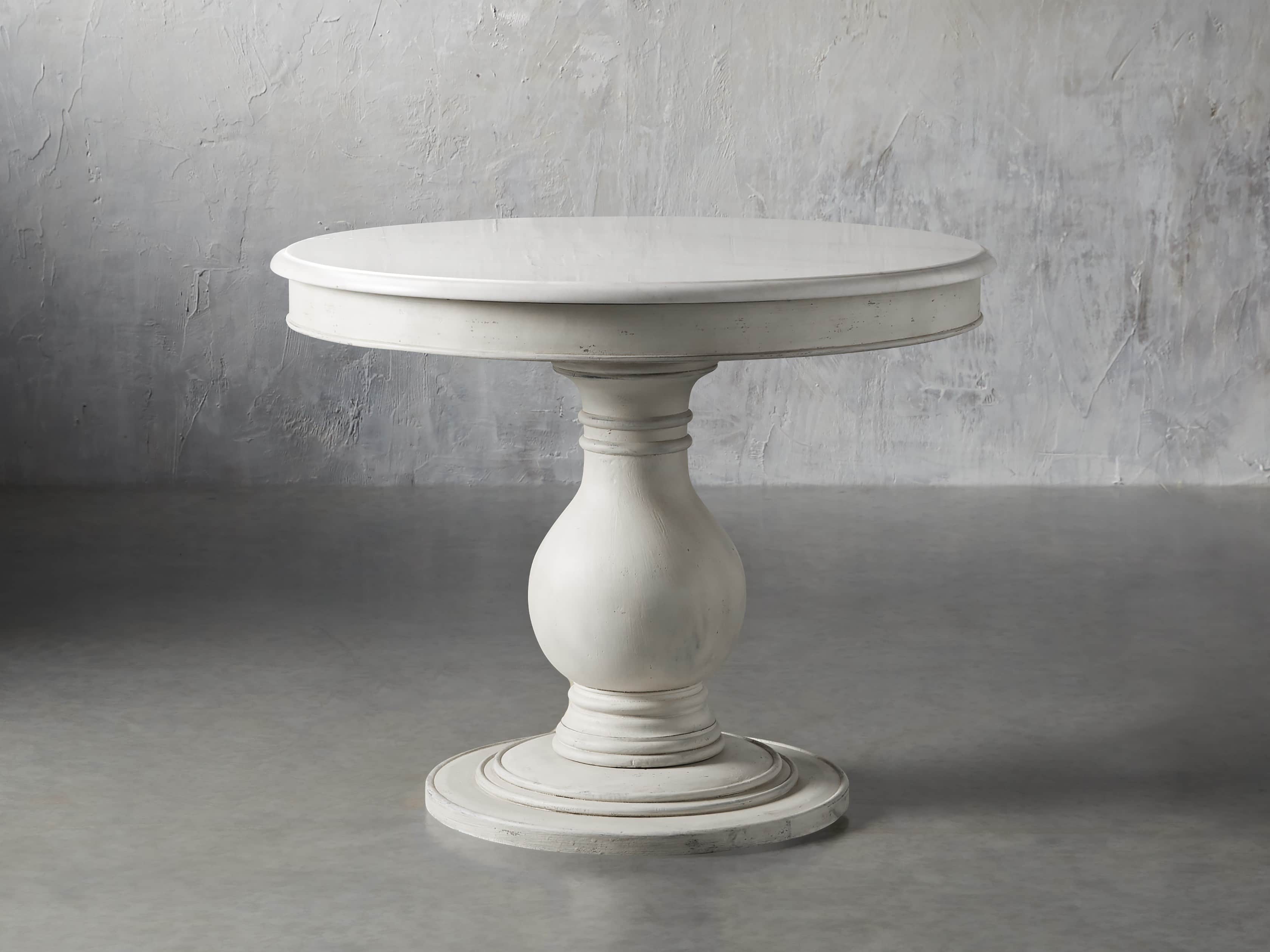 ( table )
Not sure – feels a little heavy to me. I have yet to find something beautiful and simple…let me know if you have seen anything good.
Oh, the price on the Arhaus version is painful for this non-shopper.
In the meantime, I added a few items to the entry table…a couple vases, a basket to toss keys, a floor basket to toss random items that come in the door…
Made sure the leave it mainly empty so guests can set things here.
Kept the garlands up on the staircase too but added more lights. I love the entry at night…
I'll leave the porch like this through the week of Thanksgiving. But on black Friday, you won't catch me shopping. You'll catch me in full-decor mode. I don't have the kids the week of Thanksgiving this year so when they come back I would love to surprise them with a MERRY CHRISTMAS homecoming.
NEW ENTRY TREES
For the last 3 years, the foyer tree looked like this…
It was a fine tree, but was hoping for something a little different. I sold the 9′ tree and purchased this one…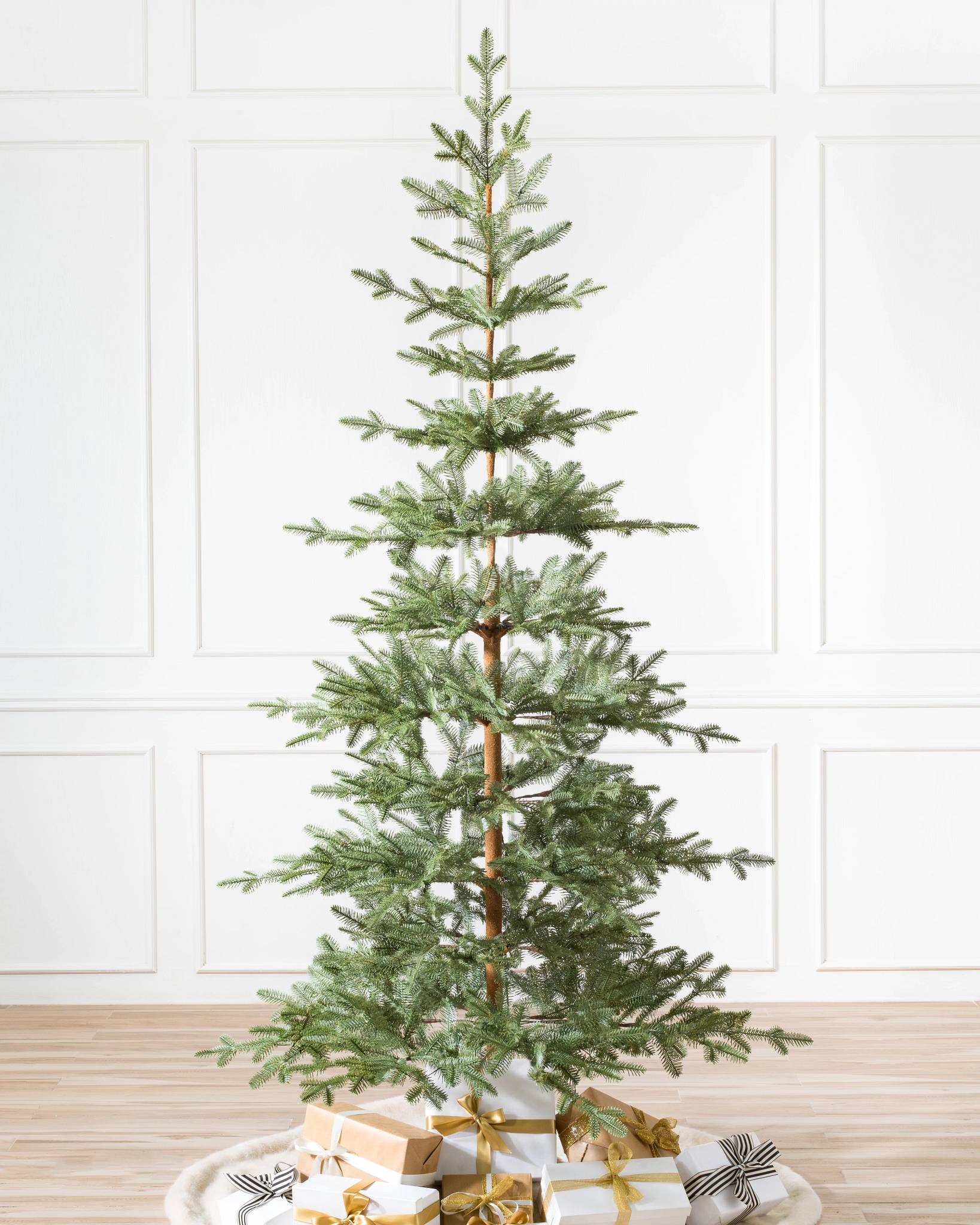 It's the same size, but love the minimalist vibe. My hairdresser has the same tree in her salon lobby but the frosted version…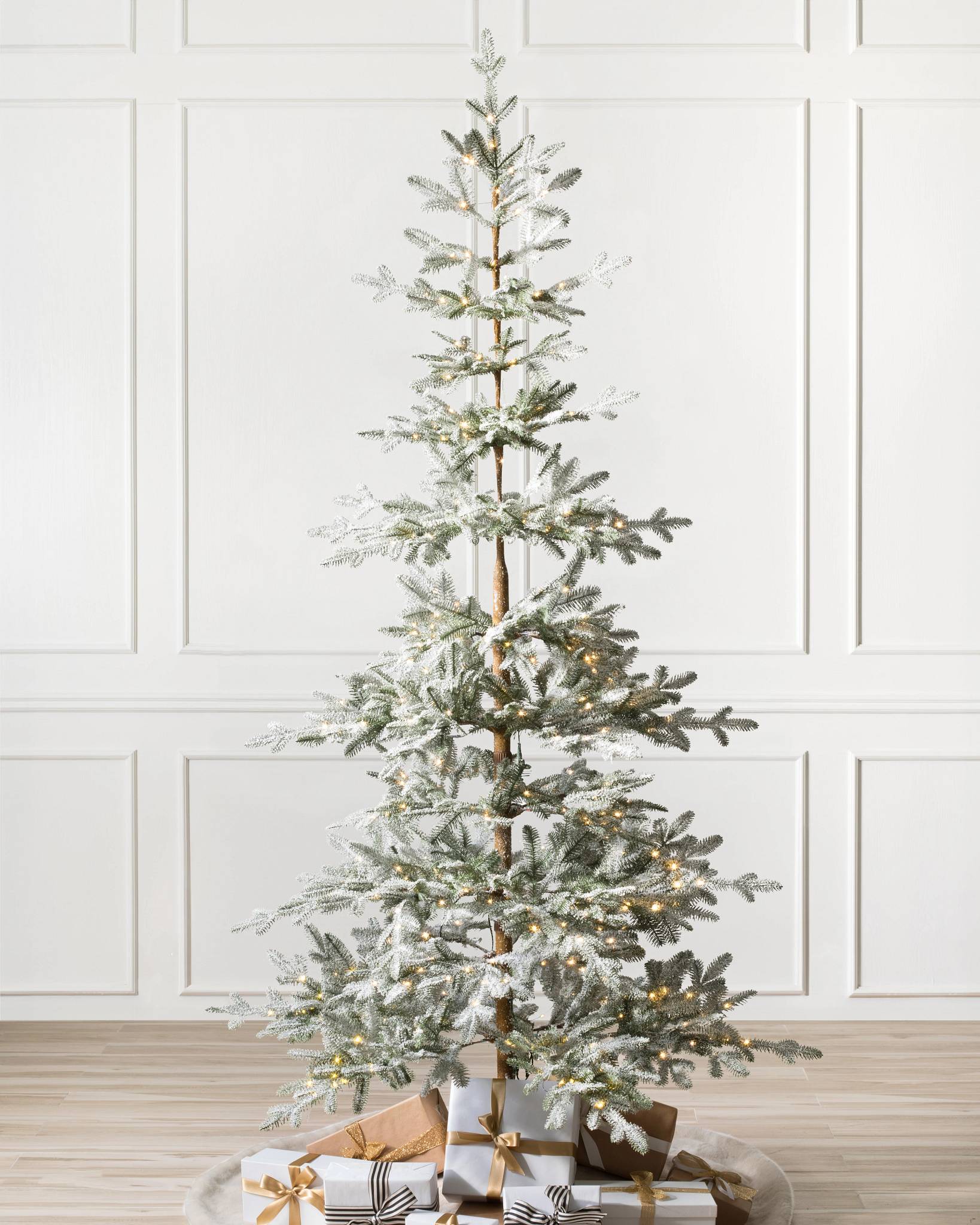 The tree is actually more substantial in person. Not as wispy or Charlie Brown-ish. I LOVE the frosted version but I have so many flocked trees for inside the house. And a plain tree seems to be a little more classic to me. It arrives in a week or so…and you know I'll share it with you once it's set up and give you the real feedback.
I kept the 2 smaller trees I put on the porch and purchased 2 additional of the style above that are only 4.5′. I'm going to play around by having a variety of tree sizes and types…who knows!
THE MINIMALIST MANTLE
For the last 2 years I've been brutal about letting go of any holiday decor I don't love or use. Year after year I noticed I was keeping things – a lot of things – but not using them. I'd open a bin, see the contents, say "oh, this is in here", close it and put the bin back. I find I'm getting more minimal with each passing year. I love a beautiful flocked tree with tons of lights but NO ornaments. Last year I didn't put one ornament on a single tree. The kids thought I was crazy, I'm sure. But they look so pretty to me with nothing on them. Anyone else?
Anyway, this year I'm sharing minimalist mantles – we have 3 in the house so I think it will be fun to share 3 different ways I've decorated that are pretty but minimal.
This was the family room mantle last year…
I love this faux garland. Like LOVE. It's so realistic and Terrain has their full selection available again this year…
I added mercury ornaments and lights. That was it.
SOME HOME ORGANIZATION
Haven't done much organizing in the house, other than maintenance stuff. But I did update our baking containers…
( containers )
These fit so much better on the pantry shelves. Love their shape and the lids keep everything fresh.
I organized a fun candy bar for the kids this Halloween season…
Part of the inspiration for this project was the collection of Ring Pops sent to me by Ring Pop. They were hoping to partner with me for an organizing project and sent a huge box with 5 different colors. I already had plans to create a candy bar, but the timing worked well.
To organize the pops, I grabbed these pretty glass jars, which I will be reusing in this spot for the holidays…
( jars )
Thinking a hot chocolate bar would be fun!
Look at me – posting 2 days in a row! It's great to be back. Feeling a little rusty on the writing because it's been so long. Need to exercise the writing muscle a bit more so it flows easily.
Hope you're doing well and really hope to be back to blogging weekly.
I'd love to hear from you guys to know that you're here – so pop in a comment!
xo,
Sam