Hello and Happy Martin Luther King Day! Today is always a special day for me to reflect. Martin Luther King's message of unity is more relevant than ever. And I am grateful for him among others who have provided me the opportunity to have a small business in this country. The freedom to start a business, but also to believe in myself and never forget I can do hard things. No matter the obstacle, I can. And I can create jobs…and we can help / serve people. Seriously, living my dream job and I owe so much gratitude to many…including him!
Every year I remember the period when Graham was completely obsessed with MLK. Seriously warmed my heart back then and still does now. He wasn't able to read yet, but he was SO into the story of his life that he had (and still do have them) multiple Martin Luther King books. He brought them everywhere.
I hope you're doing something today to reflect on his many messages and his life.
During the holidays, I hosted a few gatherings and it was a wake-up that I don't have enough seating. I mean, I already knew this. And had already taken steps into researching pieces. Well, honestly….I had taken a hard-core deep-dive into sourcing lots of pieces. Just hadn't made my decision yet. It takes me a long time to finally purchase anything because I want it to last. All that exhausting effort reading reviews and researching my go-to shops does end up paying off in the end. Pretty much everything I own is what I have owned for 10+ years. I had to purchase a few new things for the house right upon move-in, but otherwise…it's all old items that have stood the test of time.
Today I wanted to share a few of the spaces I'm talking about, where my focus is this month and give you an update as to where I am right now. With more to come!
KITCHEN TABLE AND COUNTER STOOLS
All three of these spaces sort of interconnect and you'll see why. But we'll start with the kitchen. In this little nook of the kitchen I used to have our rectangle-shaped dining table…
It's not here now because I moved it to the dining room to make space for our new table (keep scrolling to see it). Anyway, I LOVE the table and purchased it from the Pottery Barn outlet…
I found the table and chairs for a total steal! The outlet is the way to go first, in my opinion. And this is a classic set!
( table )
The table fit ok in the space, but not great by any means. One of the other main issues is a vent in the floor. The kids always opted to sit with their back to the window so they could be looking into the kitchen … but when they pulled their chair in or out, the leg dropped into the vent. You can see the vent again here near the window…
I knew the rectangle table would eventually be a great fit for the dining room – it came with two leaves and could use the table for entertaining and also a work space for our team / kids homework.
I could have taken a deep dive into sourcing round tables but since I loved the Toscana so much, I ordered the round table and called it a day. It arrived this weekend…
LOVE it!
It comes with one leaf, which isn't in the table now. When the leaf is in it's more of an oval shape. For day-to-day we'll keep the table like this. You can see how that vent is not an issue any longer. One leg is there so no one will attempt setting a chair in that spot.
I'm considering these chairs at the moment…
Also in natural…
These are from Amazon and come as a set of two, with great reviews. Still researching, of course. LOL! In the meantime we'll use the existing chairs we already have. I am really loving the idea of black chairs though.
BUT…I did last week finally purchase and assemble three counter stools!
( stools )
I'd say this was the biggest pain point for me – finding great counter stools is tough and it's a big decision because they do need to be comfortable…and hold up to food dropping on them. I found these at Target after a LONG search. And I LOVE them!
Like really love them!
I had a list of important points that had to be hit on this purchase and this was the only chair that stood out among the crowd.
This is a temporary home for us – I didn't want to buy something expensive that wouldn't transition. Or worst case, because they weren't too costly, I could leave them here for the homeowner when I eventually move.
All three of my children are over 6′ tall. The seat needed to be roomy, comfortable and…
I wanted a back for sure
Was hoping for a different texture – not upholstered (food dropping) and because the family room sectional (behind me in this photo) is a lot of upholstery.
A great price point
These come in lots of colors and I ultimately landed on this one so they would somewhat blend into the kitchen. I want the table to be more of a focus and the stools to sort of disappear. But I know the kids will sit here more than at the table, so the comfort factor was most important.
Anyway, the reviews are awesome and I can tell you this would be a great purchase if you're in the market for counter stools.
DINING ROOM
I moved the table to the dining room and I think it's going to be really great in here! Can already visualize this space coming together…
Ignore everything else you see in here…this soon will be gone.
My plan is to purchase an 8×10 foot area rug, storage for the back wall, two armchairs and updating the light fixture. The kitchen also needs updated lighting, but think it will be easier to begin that search in here since it's confined and not all cream / brown tones. I'm stuck on even where to begin in the kitchen because of the colors.
Since this will double as a work space, I'd love a mix of concealed and open storage. I've found a few options but am stuck on if I go with two tall pieces or a few shorter long pieces.
( sideboard )
( three of these side x side )
( metal sideboard )
I love the look of this one but it's too short for the space and doesn't have great reviews…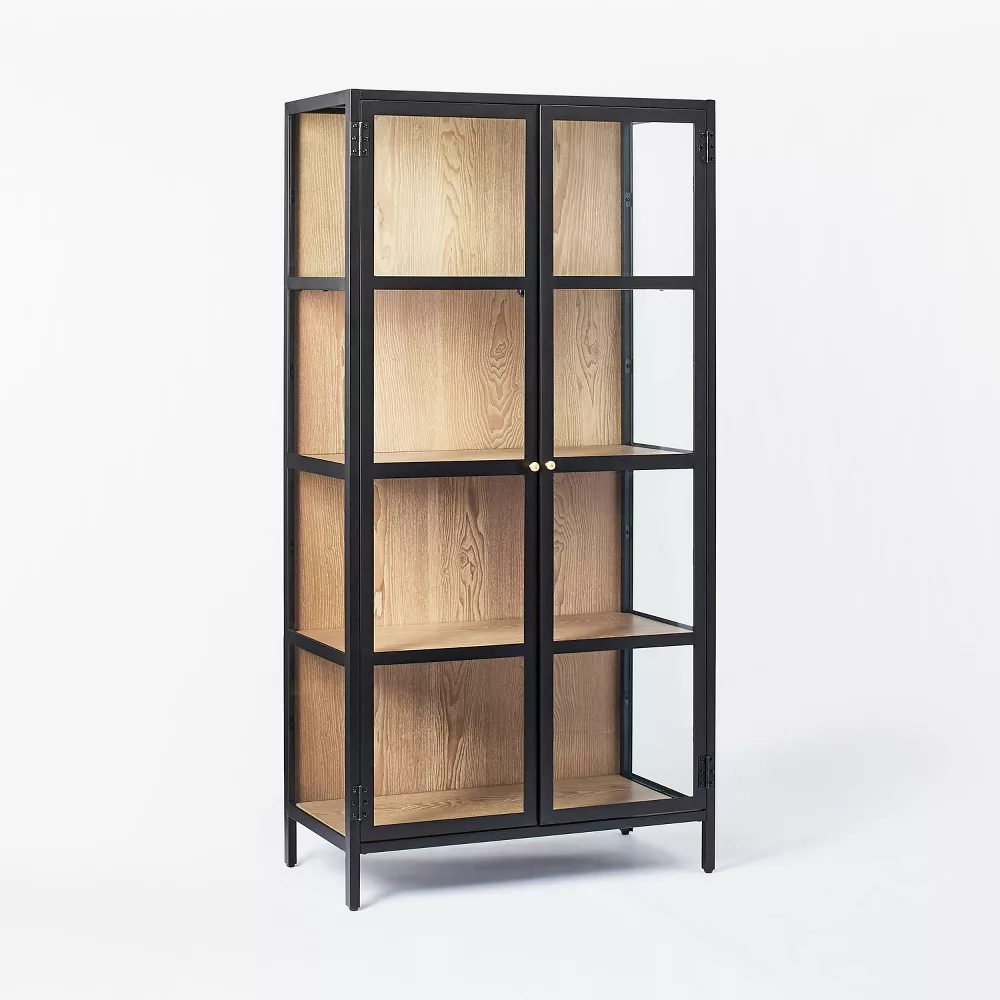 ( cabinet )
If I found something like this cabinet that has glass doors, I figured I could mix in concealed basket storage within it…along with some decor pieces. You know? I really want to keep this space light and open and airy. And I see it from my office…also thought if I chose something lower profile, I could add some beautiful artwork above it. ??
Welcome to my crazy mind! LOL!
For now, I do know I can focus on adding two chairs, an area rug AND…I can move this sideboard from the living room to the dining room under the window…
Which now brings me to the family room.
FAMILY ROOM
When we hosted the holidays, it was clear we needed a coffee table and one or two side chairs. Something comfortable that can go in the place of this table…
Do you spy Nova? So cute! She and her toys will be a constant backdrop, I can already tell.
This is another room I'm playing around with. Maybe a glass cabinet similar to the above to the left of the fireplace…and one large comfy chair in the corner on the right near the mirror? Then I move the blanket basket under the window and add a small coffee table?
I love having a place to add decor and photos of the kids / family so I'd like to do that … removing that table means I wouldn't have a spot to display those types of things. But we need a coffee table / ottoman and we need a chair or two where people can sit and have a conversation. During the holidays people were only able to face the fireplace…didn't feel warm or comfortable to me.
Anyway…that is the third space of focus.
No matter the case, I'm happy to be moving forward on these spaces and hope to have wrapped up some serious choices before the end of the month. Natalie's birthday is at the end of the month and she wants to host her friends here. I'd love to have that dining room pulled together for her to celebrate in there if she wants…we'll see.
Progress is progress…little by little and I'll take it.
Hope you are enjoying the long holiday weekend! Back soon with more!
xo,
Sam