hard to believe it's friday and my week-long blogiversary celebration is coming to a close. 🙁 boo!
i've had so much fun hosting these giveaways all week. i've loved reading your comments and seeing the excitement from those signing up for a chance to win. thank you again for coming over to the blog this week to celebrate with me!
the final giveaway item this week is something all of you will
love
. it's my absolute favorite *happy place* to stroll around in, browse, shop and browse some more. i've been trying to be good by not going into our local store as often – i could do some serious damage to our credit card in this place! instead, i've recently taken up
stalking
browsing the website for holiday inspiration. 🙂 any one of you will be able to use this giveaway item to help organize a space in your home, your car, your purse, your office, and more. they can even help you be organized outside of your home – travel items!!
have you guessed what store i'm talking about yet?
here's a hint…
and a colorful one…
yup, the container store!
would it be wrong for me to plan a US tour of all the container stores? kinda like when my husband talks about taking our grown boys around the US to see all of the baseball parks. wouldn't that be a great idea?!
call me crazy, but that would definitely be my idea of fun! 🙂
to end this week-long anniversary week, i'm personally hosting this giveaway by giving one of you a $30 container store gift card!
and you can spend it on whatever your little organizing heart desires. trust me, there are endless ideas coming to mind. here are some items i've spied that are on my wish list this season…
we recycle twice a week – once when waste management comes for regular trash pick-up and once on saturday mornings at our local recycling center (which is almost walking distance from our house). we have toooons of recyclables and they are starting to take over the garage. so, lately i've been eyeing these stackable bins – with a carrying handle…eeek!….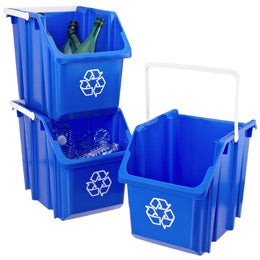 i'm still working on getting our paper organized in the office. i've figured out exactly what i need to keep and how to manage papers coming into the house, but now i need somewhere to keep everything. here is a pretty container that caught my eye…
have also been giving some thought to upgrading my scrapbook table in the office closet. i love this idea…a long tabletop that is held up by tall stacked drawers…
i could keep sharing but this is probably getting old for you 🙂
on to the giveaway!
to enter, just follow the simple instructions inside the rafflecopter gadget. entries are open today through tuesday, november 12. winner will be notified via e-mail and the e-gift card will arrive in your e-mail inbox – from me!
don't forget to enter the other 4 awesome giveaways from this week. they are all still open to enter!…
good luck!!