Small space dwellers – high five! If you have a small kitchen, like me, this is a great solution for adding much-needed counter real estate. And on a budget!
If you're new, I've shared my little kitchen in several posts ( like here prior to move-in and here when I re-did the kitchen floor). Over the 3 years of living in this house, I've done my very best to make the most of this galley kitchen. A kitchen renovation is on the dream list, but it's going to take some saving. When the kitchen is renovated, a large chunk of the house will be updated along with it. So the project will be invasive and involve much more than simply the kitchen space.
Bottom line, I'm doing my best to make this space work extra hard. Adding and removing where I can.
Previously, I added a tall, narrow shelf to this space…
It was doing the job for a while. But lately, I found I needed a shelf with more depth to hold a little bit more. And this was my answer!
The Container Store is hosting their annual 30% off Elfa sale, so I purchased a white shelving unit…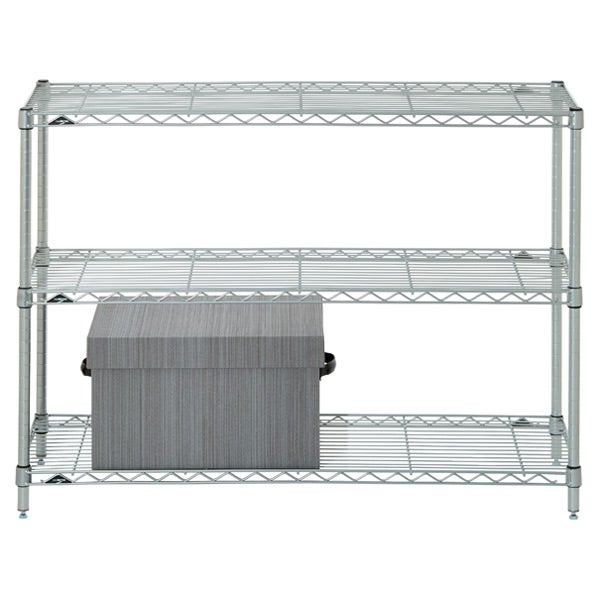 And added my favorite pantry baskets and labels…
It has made a World of difference for my minimal counter space…
What I contained on these few shelves is:
*a small collection of cookbooks I reference most often
*a few oversized platters that take up too much space in the cabinets
*a basket each for iPad's and chargers / cords
*hair accessories (my kids grab from here on school mornings)
*gift cards / coupons
*a pet basket
*the basket up top holds onions and fruit
Our rarely used home phone is also sitting up top, but I wanted to leave a little open space as a landing spot for those annoying items that tend to show up in the kitchen.
It's been a nice addition to the kitchen and has worked very well keeping the counters cleared. Well, for the most part!
If you have a kitchen lacking in counter space, this is a great option. It's just 12″ deep and you can add as many or few shelves as you wish. Elfa has a lot of cool add-on components as well, like hooks or baskets for the side. Even drawers, as I shared in this garage project…
If you'd like to shop the items I mentioned, you can do so here…

As always, if I affiliate link to anything it's in my effort to help you find the product immediately. You pay nothing more by clicking anything on my site!
Happy kitchen organizing guys!