Could not be more excited to share today's office update! Not only did something major arrive, but I finally made a desk decision. In true Sam fashion, it's a completely different desk that wasn't even in the two rounds of desks I shared. Lots to talk about.
Also, I had no idea (because I live under a rock) that the Fall 2017 One Room Challenge at Calling It Home had kicked off. So I went ahead and joined as a guest participant since there is actually some movement happening around here in my office. I tried to get involved a previous season, but the timing didn't come together. So I joined this Fall, which will be fun! If you are looking for some serious inspiration, definitely check out all of the participants and guest participants.
STORAGE PIECE
After months of living out of boxes, the storage pieces I chose from Pottery Barn were scheduled for delivery this week. For real, this has been the state of my bedroom off and on over the last few months. My room is next door to the office…
The stuff was in here, then I moved it back to the office, then back in here for painting. It's basically been a total disaster up in here for months. When I had to find something…eeek, don't ask. The delivery of these storage pieces were long long overdue!
My rug pad arrived a week ago, but the area rug is on the way. I mopped the floors and rolled out the pad the morning of delivery…
Then I waited in the kitchen window for the truck to arrive…
Ok, maybe not that creepy…but you get the excitement level I'm referring to.
When they arrived, I held my breath to see if this baby I designed was actually going to fit as planned…
And hello mama….
Seriously, meow.
Fits perfectly…
Look at all that storage!…
Could not be more pleased or more in love!
Now, the reason I chose this particular set up was for several reasons:
I wanted a lot of drawers, but needed boundaries. I'm known to hoard little organization do-dads (imagine that – ha!) so having a defined space gives me limits.
I wanted to also limit myself to only TWO filing drawers. And if I can make it happen / be totally ruthless, it will be just one drawer of filing and the other will be re-purposed for storage. I'll be going through each and every piece of paper in this office to make the decision of shredding, scanning into Evernote or filing, if it absolutely needs to stay. My gut says most of my papers can be scanned. Will be a big process and you can bet that will be shared here on the blog.
I needed space to spread out client designs or for gift wrapping or big projects with the kids. Having this long continuous piece gives me more than enough space. And if I need to work off just my laptop, that can live under this window…
My plan is that just a few small items will be sitting on this desktop, otherwise it's going to be clean, open, airy and light in this space.
For those wondering about the pieces I chose, it's the Logan Collection from Pottery Barn. I chose the desk and 2 3-drawer units…
( desk )
 ( 3-drawer units )
AREA RUG
Moving on, not sure I shared my rug choice. As with everything I do, this decision may change. But I love how bright this rug will make the space. Although my photos make it appear super bright in here, my office isn't very light. There's a couple windows and a skylight, but for some reason it stays pretty dark through most of the day.
( rug )
I love that there's some pattern / texture to the rug making it a little different and not just a bland cream carpet. What also sold me on choosing this color was seeing it in this room…
My walls are white, the hardwoods are dark and the storage piece is the same antique white color. I think it will look bright and airy up here. Will see soon! Rug is on the way and should be delivered before next week's post update.
THE DESK
Finally, let's talk about the desk. If you recall in my last post, I chose this gray wash desk…
My hope was to have something natural in here to offset the white. But I didn't need this much storage and I was struggling with not having a more open desk under the foot area. My gut was saying cancel the order, so I did. After doing some more searching, I found my dream desk on Restoration. The only reason I made this investment is because I'm now a trade member with RH so I received a significant discount. But I totally love this desk!…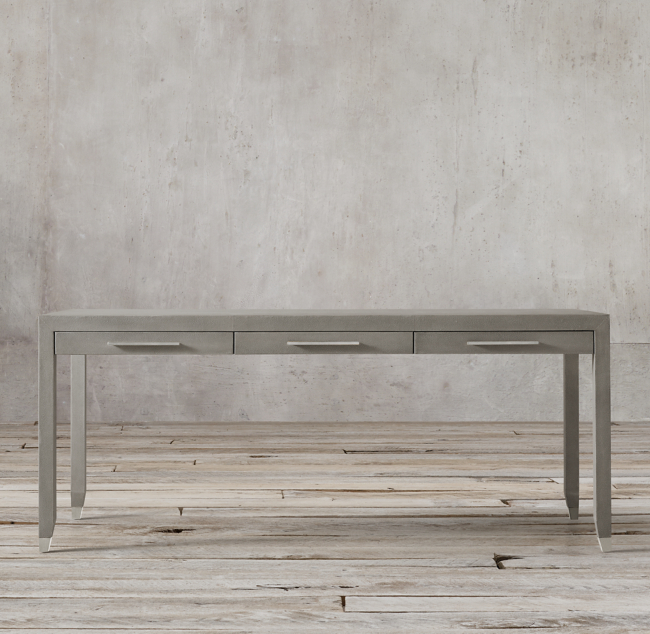 ( desk )
The desk gives me everything I wanted…3 small drawers, a wide tabletop, open underneath, AND a color other than white. Love the gray and stainless details. And because I'm a visual, it helped me to see it atop a white carpet. My desk is the one above with silver details though…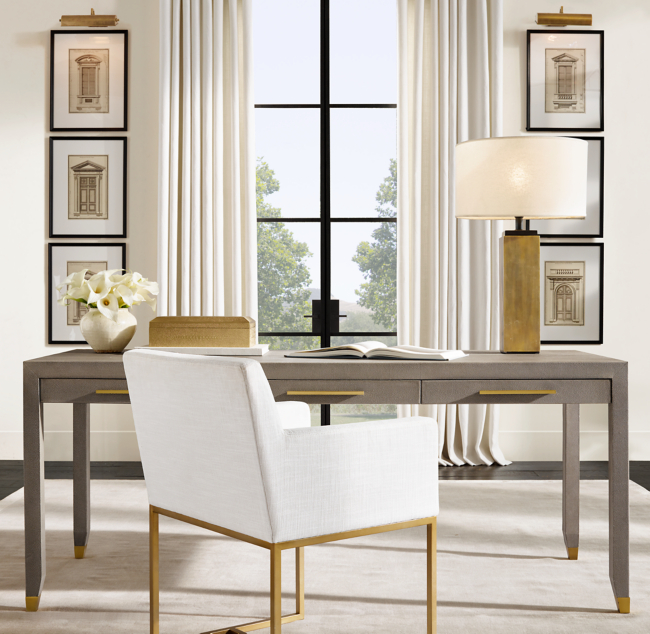 So excited for it to arrive, but sadly it's showing a delivery of December 10th or something. Boo! Looks like I'll be living off this folding table a while longer. No biggie…because I have a lot of fun organizing to do in the meantime. Can't wait to fill these drawers and share how I've organized every last detail.
I'm still on board to add floating shelves on either side of the window…
Am still thinking something natural wood would look beautiful … and then possibly adding some sort of window shade. Possibly a bamboo shade. Since my computer will pick up on the glare of the window, a shade would be helpful.
Ok, guys – that's my office update for the week! Be sure to check out all the ORC participants right here and I'll look forward to sharing another installment next Thursday!
*affiliate links were used for your convenience. thank you so much for supporting my blog so I can continue to deliver great content for you! love you!