You've had a peek into some seriously beautiful women's closets here on the blog, but what about those guys? Men's closets are such a treat to organize because, in my professional experience, these spaces aren't overcrowded and only contain the necessary / basics. In general, the men who have hired me are pretty ruthless about de-cluttering too. Almost no emotional connection to their stuff. Unless it's that old band or frat t-shirt they can't part with.
These closets are easy, fun projects and require minimal containment. Men don't have as many frills as women – no jewelry, no heels and little-to-no accessories.
Last week I had the pleasure of not only re-organizing the closet of the sweetest guy I know…but I organized his space with the new line of home organization accessories from The Laundress!
If you aren't familiar with The Laundress, I've previously talked about their incredible line of detergents and home cleaning products. Remember last summer when I updated my laundry room shelving?…
I've been using their detergent line for a while and couldn't wait to have their pretty containers on display. Sidenote: you must try the Le Labo Santal 33 scented detergent…heaven!! My bedding is washed in that scent or the Rose 31 scent. Love…
Since clean clothing / stain removal is their jam, it only made sense that this adorable team of 2 women created a line of home organization accessories. And I couldn't wait to get my hands on these to test it out in a real-life closet setting! A man's closet…
Like any other organizing solution I would recommend or stand behind, this line minimizes clutter and maximizes space – stylishly!
You will notice he lives a simple life with few items – welcome to my own world. I love keeping my closet streamlined to what I actually wear in a 365 day period. Although he has a modest wardrobe, there were items that needed to be kept dust-free – think suits and sportcoats…
The suit storage bag safely keeps his suits and sportcoats dust-free.
Out of season items like ski clothes or winter / summer hats are great when stored in boxes with a lid. I love this medium sized storage box…
The storage boxes come in a few sizes which will help you out no matter what size your closet shelves are…
No guessing where to locate that ski jacket when there's a label on the box…
When I organize a closet, I notice the items that tend to collect more dust than others. Shoes and hanging pants seem to be the worst, but hats come in a close third. For him we separated the hats – hats, visors, beanies – and contained each in their own storage cube…
I placed them above his shoe section and the handles make for easy reach when it's time to cheer on those Dodgers Giants!…
No worries if your closet doesn't have closed cabinets for dress sweaters. Just fold neatly in a box and place on the shelf…
This double sorting laundry bag captures my heart…
It sits nicely on the closet floor and with its divided sections, keeps dirty laundry sorted by color…
Love the handle on the bag and how organized you'll be before your dirty clothes even hits the laundry room…
Whether it's your man's closet or yours…or even your laundry room or mudroom, these home organization accessories are incredible. The line from The Laundress comes in both black and white…so be sure to check out both varieties…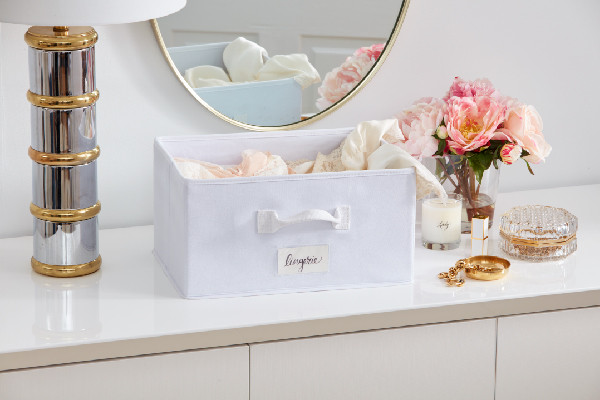 The fabric is high quality – breathable cotton canvas. You can update the contents / labels anytime…
It's a rare opportunity to organize a men's closet so this project was a nice change to the usual. And I loved sharing the new line of home organization accessories from The Laundress. You can see the entire line here and don't forget to check out that Le Labo detergent!!
Back soon you guys!
xx,
Sam
*The Laundress did send these pretty storage accessories to me at no cost – however, I organized the closet myself AND everything shared here is my opinion and written in my own voice. You pay nothing more by clicking any links in this blog post and I won't make a commission on anything you purchase. Just saying… Thank you to The Laundress for partnering with Simply Organized!