You've seen me organize those challenging under sink cabinet spaces. And the most efficient method has always included stacking drawers we can design around the piping. Here's a recent example…
( blog post | stacked drawers )
But a new trend in bathrooms I'm seeing all the time is under sink drawers that are wall-mounted. Not a cabinet that is floor mounted. Here's a couple examples…
It really is beautiful to look at and nice to have completely exposed bathroom floors for cleaning. But the challenge with these is the cut out that allows it to open and close around the drain pipe…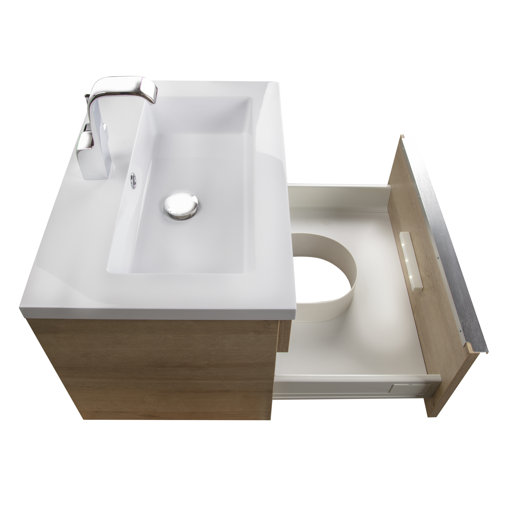 ( via )
I'm here to tell you, there is a way to organize in any space. No matter the obstacle.
In this adorable couple's new master bathroom they were faced with this challenge and it was easily solved by way of a measuring tape – of course – and a few drawer dividers that fit like a glove…
Each side of the sink has 2 drawers – 1 upper and 1 lower. They are truly beautiful and love the texture of the drawer interior. After taking into account what was being used daily vs. what needed to be stored, I measured every square inch and purchased containment that fit the space … and its contents.
I did relocate a few things to the hall closet that are intended to be backstock / overflow. No need for everything to live here – all they needed was what they absolutely use any given week. I'll share the closet at the bottom of this post too!
His top drawer…my heart is beating faster, not gonna lie…
For his side of the bathroom sink, it was pretty cut and dry so I opted for these great bins from Target. As you see, they literally fit like a glove in these drawers – thanks to measuring! But I did have to make the clearance for the cutouts in both drawers…
( dividers from Target )
Her side was a little more challenging because the top drawer contained her make-up. But this was easily organized using a mix of divider sizes…
( drawer dividers )
In her bottom drawer I used the Target organizers again to contain her hair and personal items, leaving space in the middle for hair tools to sit neatly…
( dividers from Target )
PRO TIPS: HOW TO
The trick for ANY space when getting organized is:
Your measuring tape is your best friend! Measure and measure again. Knowing all your measurements will save you when your purchasing containment.

Know your contents! What are you containing? You need to know before buying anything.

Pare down to exactly what you really need, love and use! No reason to keep backstock or overflow items in the same drawers as your dailies. Keep just what you use / need front and center…and nothing more.
This couple also has a deep hall closet, but it's shared space for all 5 members of the family. She needed this closet to hold linens, towels, and medicines. But my goal was getting their backstock items in here as well to free up more bathroom drawer space.
Using just a few inexpensive products we were able to take advantage of the very deep and wide shelves…and also make sure nothing got lost / was easy to find.
I organized their hall closet by:
Putting backstock items up top on turntables.
Sorted medicines by adults and kids (and type of illness) in clear, labeled, open-topped bins for ease of grabbing – I also kept those on the higher shelves as they have a young child in the house.
Organized bedding by bed size on one shelf
Folded towels and washcloths on the bottom shelf
Left the floor space open for that costco-sized toilet paper purchase she's about to make – they just moved in so she's stocking up!
( turntable | clear bins | my favorite label maker )
Turned out beautifully! And they are so excited about the after too!
SHOP THE POST
If you have a couple challenging spaces like these, and spied something that may work for you, you can find the items I used right here:

Thanks for reading guys! Back soon with more!
xx,
Sam
* some affiliate links were used for your convenience. you pay nothing more by clicking any link anywhere on this site. i promise! thank you for supporting this blog so that i can continue to deliver excellent, new content for you! xoxo