Certain I have the smallest kitchen to show off on the internet. Don't get me wrong, am grateful to have a kitchen. But with 3 kids in the house and the fact it's a tight, galley kitchen with limited counter space, there are definite challenges to work with. Over the 2 years living here I've made some serious improvements to the space, and made it work hard. Every couple months though I find the need to tweak something making it even more efficient.
Over a year ago, I shared this little addition to my kitchen…

It gave me the extra counter and cabinet space I was lacking by holding items like fruit, veggies and cookbooks. For its tiny price tag, this shelf has been my right hand for over a year. It's not going anywhere, so don't even think for a second this post is about me replacing it. On the contrary. Today I'm sharing how I've added even more functionality to it with some pretty baskets…
($99 – source)
You may also notice the flooring has changed since the previous photo. One year ago this month I tore up the kitchen tile and replaced it temporarily with carpet tiles. Yes, I did say carpet tiles. You can read that whole story here. And that flooring? It's worked like a charm to get us to this point!
Adding baskets to the shelf warmed up the space a bit more…
Two of the baskets contain fruit for the kids to easily grab and onions, potatoes and garlic for mom…
This basket makes me very happy…
As may be the case in your home, the kitchen tends to be a spot where phones and tablets are charged. The cords were hanging everywhere. Now when they aren't in use, they sit in this basket. Yet when needed, the kids know where to find them.
The basket up top contains the school morning hair accessories and supplies. Our school mornings are a bit hectic and I prefer brushing their hair in the kitchen mirror. Having this basket on hand is great for keeping the kids in one spot, not having them run off in different directions to look in their bathroom mirrors. And all of my supplies are right here…
I love these baskets!…
These are the Hogla Baskets from The Container Store. I used the 2 of the rectangle open front baskets…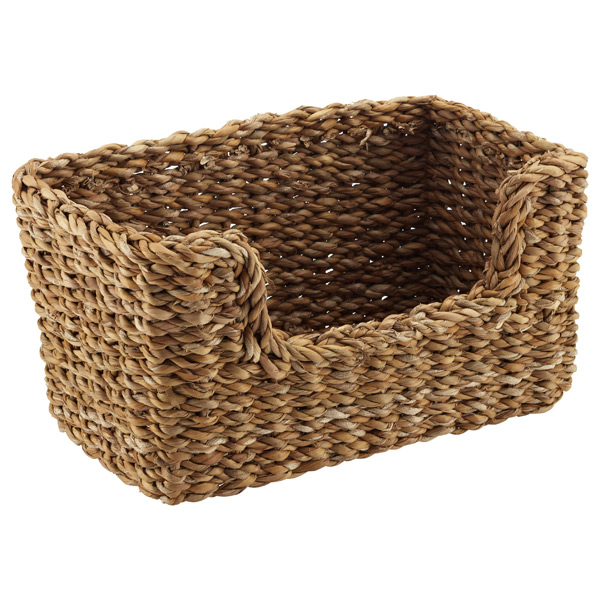 ($11.99 each – source)
And 2 of the large rectangle bins…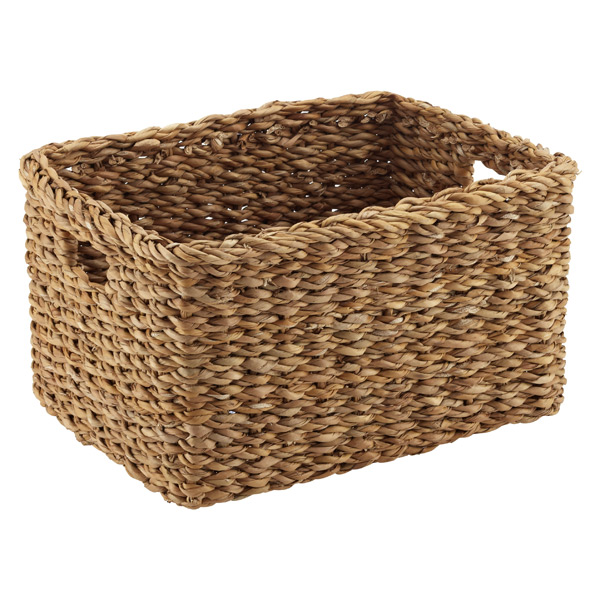 ($14.99 each – source)
A small expense to warm up the space and add more functionality. I also love that I have all of my counter space free now…
With the holidays here, I enjoying displaying a cookbook on the counter…instead of fruits, veggies and cords…
If you too are limited on counter space in your kitchen, and working with a budget, this is a great solution for you! The shelf is $99 and the baskets totaled about $50. Not bad a bad price point for giving you more useable space, containing important items and getting more organized in your small space.