Been a little while since I updated on home decor updates. But then again, it's because I had not made much movement. lol! However, yesterday = one small step forward after making a quick trip out to the Pottery Barn Outlet in Alameda. It's hit or miss, but you won't know which way it turns out until you get in the car and drive there, right?!
NEW CHAIRS
After the New Year, I shared a post mentioning the lack of seating I experienced over the holidays. And in general, wanted to add more comfortable seating for the kids and I to hang out in the family room or at the kitchen table. I've looked at HUNDREDS of accent chairs and dining chairs. From Wayfair to Target to Pottery Barn to McGee. Of course, there's something to love from these vendors, but not always the price point, reviews or quality. Between the price and the internal battle I put myself through over how long it will last, etc…it takes way too long to make a decision. This week I made time on my calendar to run to the outlet in Alameda and found a couple good items.
In the family room, I was looking for one accent chair, a coffee table or ottoman, maybe a small side table…wasn't sure there. Wanted to layer in items because it's not a huge footprint in here. Anyway, here we were last month after adding some spring to the family room…
And here's the accent chair I scored yesterday…
It's actually a West Elm chair but I fell in love with the blue color. I thought it would work perfectly with the area rug's blue tones and it does!…
( chair )
It's VERY comfortable, which I know the kids will like a lot…and it was an additional 40% off. It sells new for around $900 and I paid $500…
The outlet didn't have a great selection of accent chairs – what they did have was way too oversized for this space. And they didn't have much in leather, which is what I was ultimately hoping for BUT I figured I can add a leather footstool or cube similar to this so they can put their feet up when sitting here…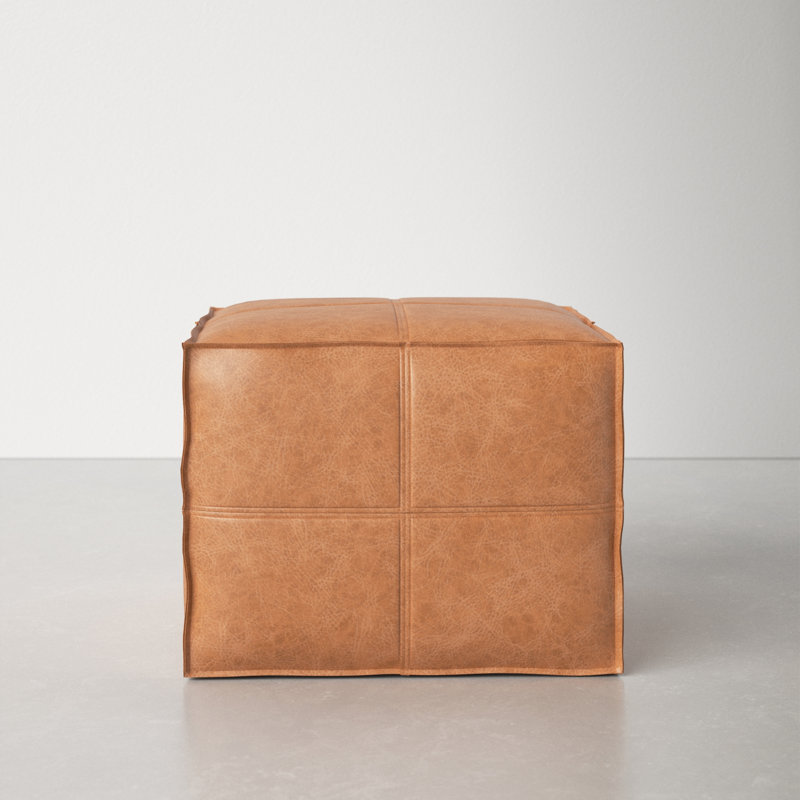 ( pouf )
Something with a small footprint like this would work well.
I did find the coffee table I was eyeing for a while at the outlet…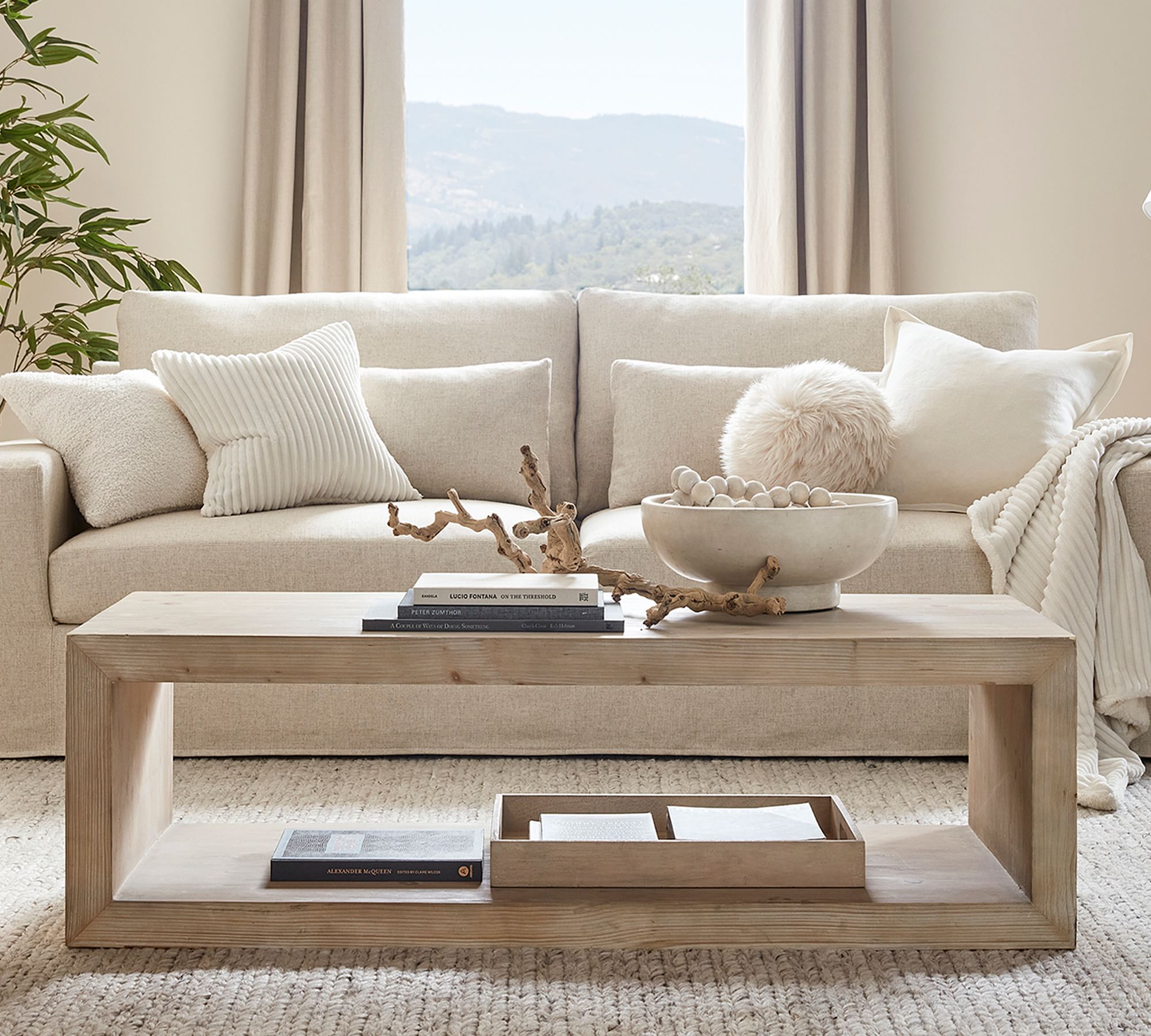 ( coffee table )
It was bulkier in person than it appears in this photo. I love it, don't get me wrong…but don't think it will work in here. I've been eyeing this one from Serena + Lily but that price is yikes!…
( coffee table )
Thought the texture would be a nice change to everything else in here. And the kids could easily put their feet on it and not damage or scratch anything. Since I added this chair with fabric, I'm hesitating on adding a fabric covered ottoman…too much, you know. We need something different or leather. Not metal or glass though…looking for comfort and nothing that we'll stub toes on. lol!
Still searching.
They had an ok dining chair inventory. Much as I wanted to go with something like these…
( chairs )
They aren't really that comfortable and these kids need comfort when sitting at the table. I grabbed four of these on sale for $200 and called it a day!…
These are the Pottery Barn Adrian chair…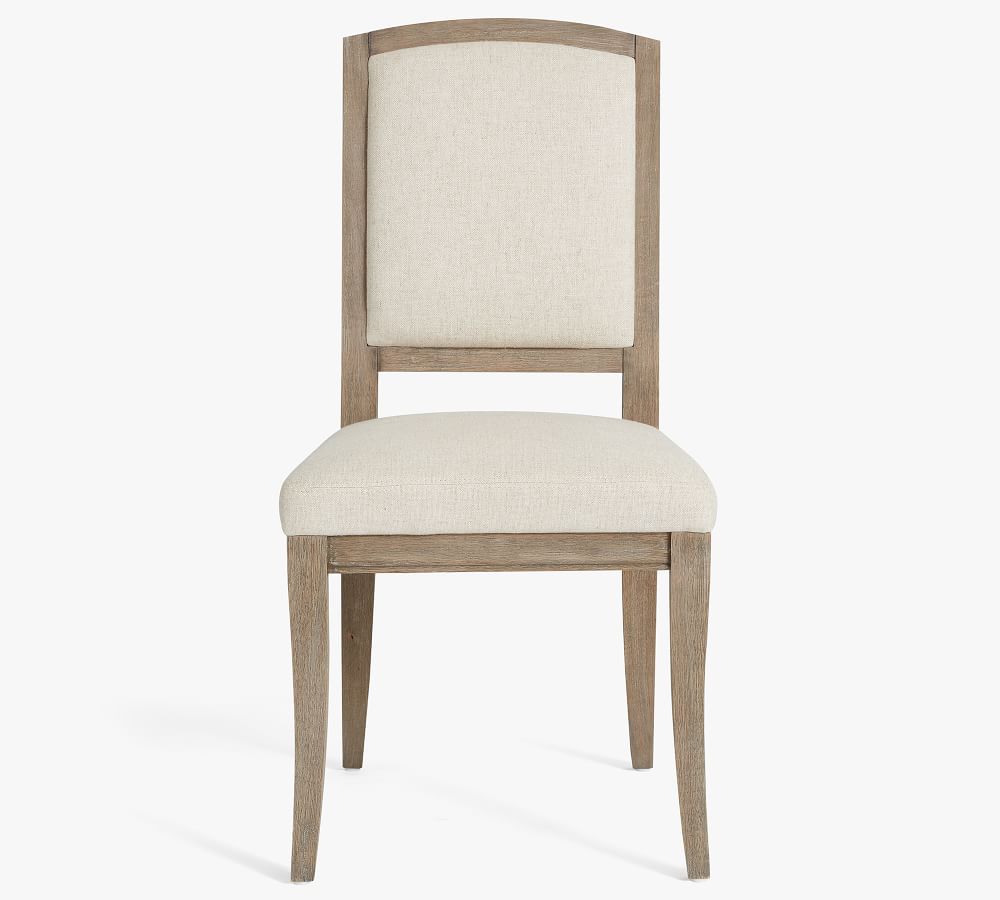 ( chair )
These also work well with the dining room table so it's nice to be able to mix and match with company visiting…
So, we have five new chairs – lol! Small steps!
I've mentioned this isn't our home so I am not about investing too much. Just enough to make it comfortable.
I'll keep you guys updated, but if you have an outlet in your area – it's worth it! There's a Serena + Lily outlet not far from us as well. I may swing through next week to see if there's something of interest. You have to visit frequently or hit it at just the right inventory day. But worth it!
DIABLO MAGAZINE
In January I received an email from a freelance writer working for Diablo Magazine. This is a high profile magazine in our area. The writer, as it turns out, is a friend of mine from high school. She had recently started writing for them and they were looking for great spring cleaning content. She thought of me and I am forever grateful.
Occasionally I have considered advertising in this magazine, but it's way $$$. So this was absolutely ideal and am very touched she considered our business to spotlight…
A highlight of the year for us! Our team was very excited about this article.
UPCOMING SALES
There's a couple great sales coming up that I'll be touching on soon…the Sephora sale and the Adidas sale. You guys know I LOVE my adidas. It's all I wear. I actually found two pairs that are already on sale – the actual sale begins April 20 so why wait if you love these two as much as I do!
( white adidas | pink adidas | leggings | jacket )
The white sneakers are $67 – down from $95. The pink sneakers are $80 – down from $160! LOVE both of these but REALLY love the white sneakers. So much so I ordered a second pair. Definitely take a look!
In my upcoming Sephora post I'm going to share the products I AM purchasing again as well as what I am NOT purchasing again. It's not going to be a deep discount – I think 20-30% but perfect timing since the last time I ordered products was well over six months ago and I'm getting low on a few.
Hope you had an awesome week and have something great planned for the weekend!
Back soon guys!
Sam