Let's play a fun game…a game called "Let's seriously get caught up around here, Sam!".
Guys, there isn't enough time to completely fill you in on what's happening currently…or what has happened. I keep telling my support system and people who work with / for me that we need a camera crew trailing us. There is sincerely no better way than a constant video reel to get you caught up AND keep you in the loop. And honestly, no better way to make you laugh. The things people say. The things WE say. The things we find. The general day to day antics during donation drop offs, picking up / returning materials, communications with everyone from store owners to PR firms, interesting mishaps with installations and the fun positions you find me in on ladders, stools, or on the floor, to trying to squeeze in the time for blog writing, photographing, driving all over the darn place….and ALL of it happening between carpool drop off and pick up.
It's wild!
The only way I could possibly bring you deep into the fold is by way of daily video journals.
By the way, don't be surprised if you start seeing more of that type of video content in 2019. I've got feelers out for a video person – it's going to get real fun! And real real.
Anyway, until that magic video genie lands in my lap (that sounds fun – ha!) I'm going to try my very best to get you caught up to date by way of blog posts / writing.
Let's start with this fun interview I did for my NAPO community…and all of you who may not be NAPO members (yet) or are just starting your organization business.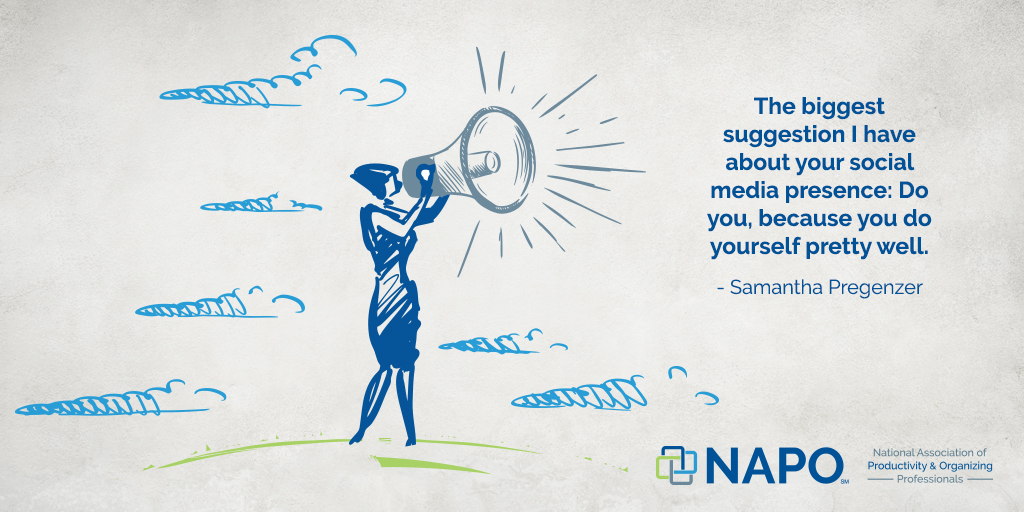 Several months ago, NAPO asked if one of our own would be interested in hosting the NAPO podcast. A podcast for new and seasoned professional organizers – a series that teaches how to launch, grow and market your business. I was excited about their idea since you know I love to listen to podcasts while I'm working (read about some of my old faves here and here – I owe you a current list). And am ALWAYS in need of great small business advice and mentoring – for free, hello!
Fellow organizer Sarah Karakaian took on this enormous task and has seriously been crushing it. Big time! You do not want to miss some of these episodes. The information is insightful, helpful and will motivate you no matter where you are on your business journey.
Oh, and Sarah not only hosts the podcast, but she is also a fellow blogger, Lowe's Partner, Airbnb'r, home improvement junkie and much more. Check out her own blog, Nestrs, here. She's basically a total bad ass.
My favorite interviews to date have been my old friend Josh Zerkel  (who interviewed me at Evernote last year – found here), and Jessica Butts.
I was honored and blown away when Sarah invited me on the pod to speak about social media and quite a bit about Instagram. We had a great time chatting with one another about how social media plays a big role in your business, best practices for social and a lot more.
You can listen to the interview on iTunes, Stitcher, Google Play or Spotify. Here's the link to iTunes – it's episode #18. Enjoy the interview and I welcome any additional questions or comments here!
UPCOMING INTERVIEWS
Just a note – you may have heard or seen my other interviews and FB Live's about social media. This is my last interview regarding this topic. From here on, if I am speaking about anything, it's organization ONLY! And I'm excited to share that I was recently interviewed on a new podcast and hosted an interview of my very own!
My sweet friend Jennifer Stagg of Stagg Design  is hosting a podcast called The Heart of the Home. She invited me on and we spoke ONLY about organization – my sweet spot, as you know. I can't wait to share this fun interview once it's released! She is an award-winning journalist, if you didn't know, so this interview and all others are incredible! She's so great!
And be on the lookout for my very first interview that I hosted myself. It was a candid and comfortable conversation with my business attorney, Autumn Witt Boyd. Yay!! She hosts her own podcast (that you should be listening to anyway!) but I wanted to take a deep dive into copyright laws with her since I've been personally affected by this quite a bit in the last few years. You will not want to miss this one either!
Back soon guys!
xx,
Sam