Professional organizers don't suggest a product unless they truly believe it's worth the investment and will unequivocally create or save space. With all the closets I've organized, I'll be honest – it's very few times I've done a complete hanger overhaul. Instead I like to streamline their collection to those similar in color or those that are matching. But when I do have to purchase all new hangers or mix in a few new ones for special items, I have a go-to list that I know will stand the test of time and maximize space.  And it's not only me who love these. These are the 5 best hangers most recommended by my professional organizer community.
Studio 3B Slim Grips Hanger from Bed Bath and Beyond
( blog post )
These hangers are slim yet strong and ring in at under $1.00 per hanger. These have a slim profile with non-slip padding to keep garments in place. The hook swivels easily and work really well in any closet, but are especially great in dorm rooms. They come in pack of 16 and in a variety of colors.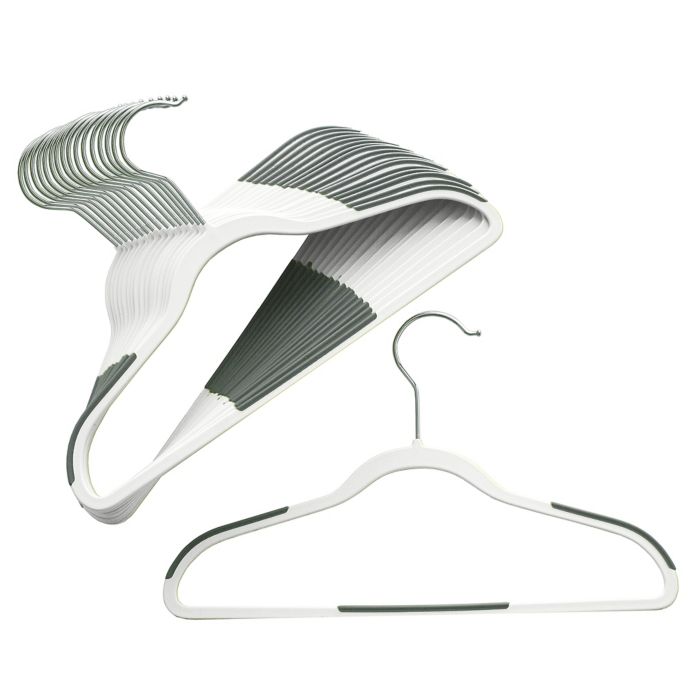 Slimline Flocked Hangers
There are countless brands of flocked hangers, the most well-known version created by Joy Mangano (her Huggable Hanger).
But you can find knock-off brands that are just as great on Amazon or at Home Goods, Target or Bed Bath and Beyond. So many stores carry these but the one thing organizers will tell you is to carefully choose where you buy from. If you later need to add more to your home, it's better to know you can in fact locate them so they are all matching. This was a good point brought up last week during my webinar session with Amanda Kuzak.
I've been in countless closets where I find a variety of "white" or "off white" flocked hangers. The color tones aren't the same because they were picked up at random from various retailers. If that doesn't bother you, than not to worry. But most people putting effort into organizing are aiming for a streamlined look.
Anyway, flocked hangers are a go-to for organizers. These tend to be the hanger chosen by most of my clients…
( blog post )
Here's a great version from Bed Bath and Beyond created by Real Simple…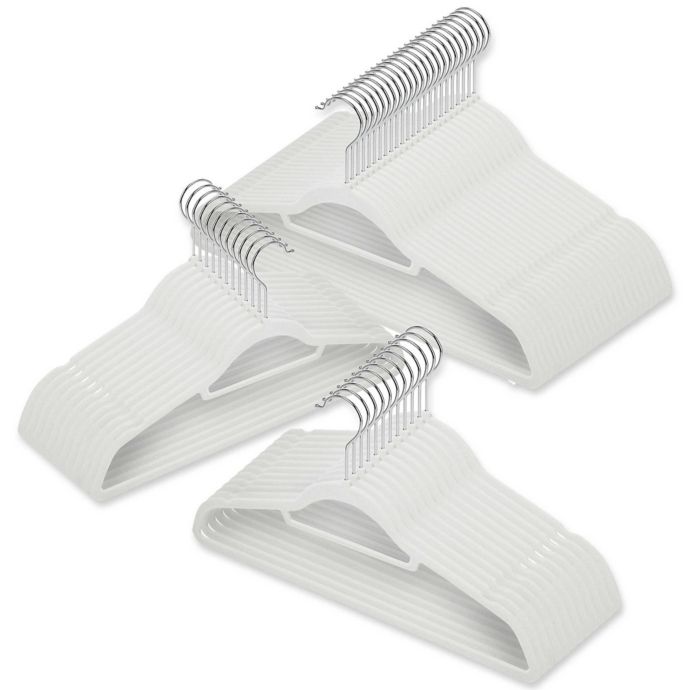 ( flocked hangers )
Holding Hangers for Bottoms and Sleeveless Tops
This is an incredible hanger for bottoms and sleeveless tops that was created by a Certified Professional Organizer. It's unique design uses gentle tension to hold your items from the waistband. Holding Hangers are available in 4 different sizes and professional organizers love them!…
These are a little pricey, but you can consider using them only for items that tend to wrinkle or crease when folded over a hanger.
Bend & Hook Men's Hangers
When I work in men's closets, they generally have bulky wooden hangers or a lot of wire hangers from the dry cleaner. This is a different option that's a bit more stylish and geared toward a man's eye – as opposed to the flocked hangers which women tend to lean into. These have a strong steel wire core and non-slip coating that keep the heaviest of coats and jackets off the floor.  There's 2 sizes, easily hold up to 20 pounds and won't cause creasing if hanging items to dry.
( men's hangers )
Slimline Wooden Hanger
If you really want a wooden hanger, there is a slimline version available…
A lot of folks want to steer clear of plastics and aim for environmentally friendly, sustainable options. There are wooden hangers that do in fact take us less space and this is one of the best.
More hanger options and hanger accessories
As the post title says, these are the top 5 most frequently sourced by professional organizers…but there are way more than 5 options. Just scroll through The Container Store hanger section for example and you'll see! Options include plastic, wooden, acrylic, metal, cedar, fabric, and more. A hanger choice comes down to your personal preference, budget and space allotment too.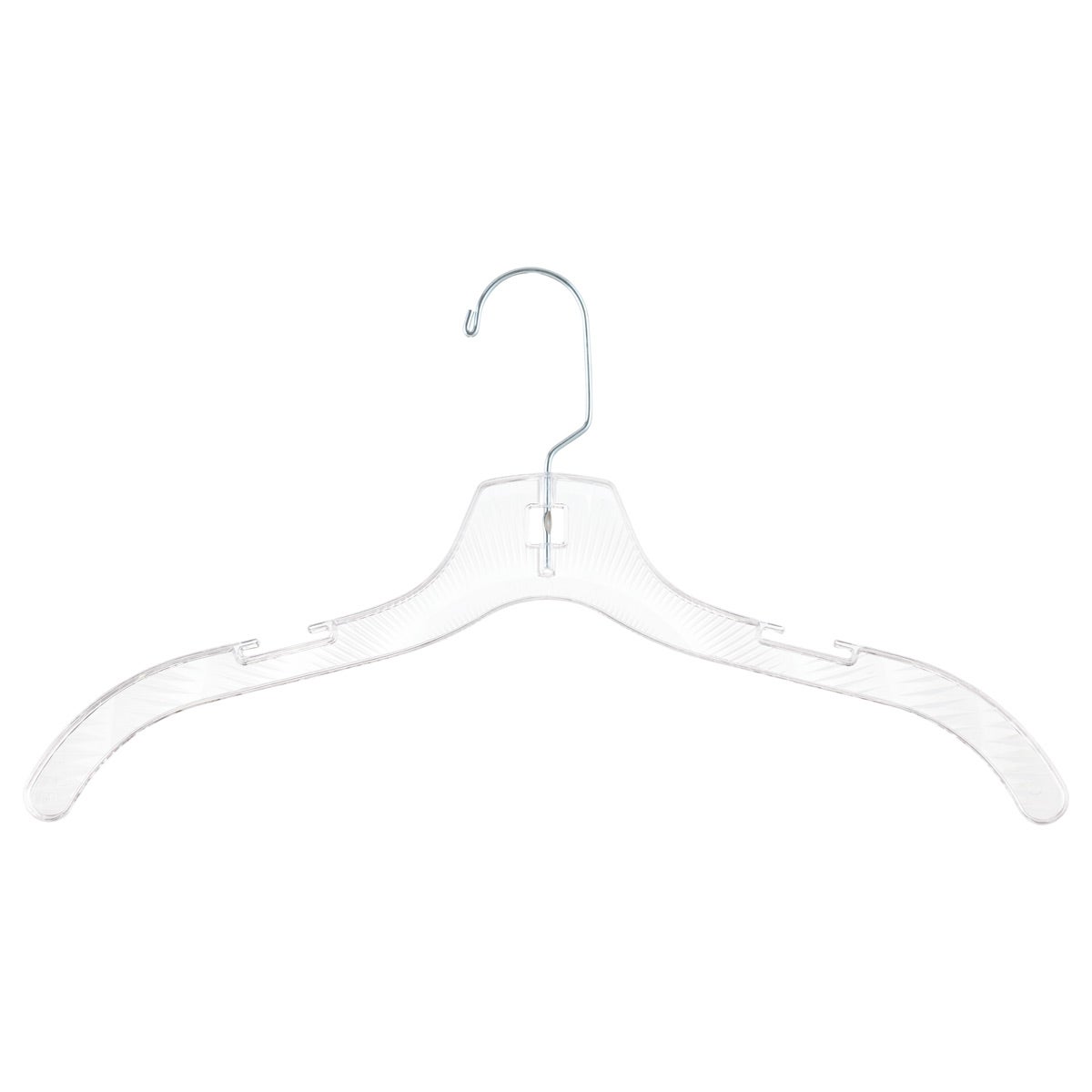 ( source )
4 years ago I worked with Higher Hangers as they prepared to fund and launch their new hanger idea. The design has definitely been updated but the space creating idea stays the same. You can read my blog post from March 2016 right here.
( source )
Most hangers have a few add-ons like skirt clips or come in 2 styles; a pant hanger and a shirt hanger. There's also cedar rings you can add to hangers to help eliminate odors. I love these that are cedar and lavender…
( cedar rings )
If your current hangers don't have grips, you can easily add them with these self-adhesive, velvet grips…
( source )
Hangers can make a huge impact for more space availability so if you've been in the market for some while decluttering your closets during Shelter-in-place, I hope this was helpful!
xx,
Sam
*some affiliate links shared for your convenience.